Absurdistan
(2008)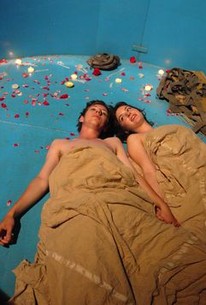 Movie Info
As the date on which Aya's grandmother predicted that the pretty young girl and her childhood sweetheart would consummate their relationship draws near, the frustrated couple finds their perfect moment threatened by a battle of the sexes that sweeps through their once-thriving village. There was a time when the village of Absurdian was considered a paradise, yet lately it looks like a dried-up wasteland due to a troubling shortage of water. Years ago, Aya's grandmother foresaw a night when the stars would align in the sky, and two young lovers would come together in a cosmic embrace. Now that night is drawing near, though the women in Absurdian have grown frustrated with the men of the village. Though young inventor Temelko believes he may have come up with a creative solution to the remote hamlet's water woes, his apathetic elders respond to the proposal with ridicule and disdain. As the women of Absurdian take a pledge of abstinence in response to male inaction, young lovers Temelko and Aya begin to question whether the encounter they have spent their young lives anticipating will ultimately be foiled by events beyond their control.
Critic Reviews for Absurdistan
Audience Reviews for Absurdistan
½
This movie is really fun despite having little to no dialogue between the characters. There's voice overs for the main two characters that ties everything together but everything else are visual gags and creative use of slapstick. I would definitely recommend this movie, it's fun and charming.
Jesse Ortega
Super Reviewer
A young couple's about-to-be-consummated love is threatened when the women of their village organize a sex strike against the lazy townsmen who will not fix the pipe that brings water to the hamlet. Set in an exotic, timeless locale and so spare with it's dialogue that it's almost like a silent movie; it's a lusty romantic comedy that manages to feel completely original without sacrificing the romance and sentimentality fans of the genre expect.
A delightful absurdist fantasy of a young couple and their desire to come together while the stars auger well for their relationship. Somewhat of a Russian folk tale of how the women force the men of their village to repair the village water supply. Do not look for logic here. It is sorely lacking. But there is a bit of fun and the young woman, Aya (Kristyna Malerova) is an especially nice bit of eye candy. The landscape is stark and harsh, and the villagers barely eke out a living in a place that is left unclaimed by any country. Yet even here, passions can get inflamed and young love flourishes. Three stars and worth the view, if only for an introduction to another culture.
Mark Abell
Super Reviewer
Absurdistan Quotes
There are no approved quotes yet for this movie.