The Absent-Minded Professor
(1961)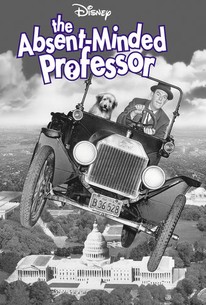 The Absent-Minded Professor Photos
Movie Info
Fred MacMurray stars in this Walt Disney comedy hit concerning absent-minded professor Ned Brainard (MacMurray), a science teacher at a small-town college, who is so scatterbrained that he has forgotten to show up at his own wedding. Missing his wedding ceremony twice, he is determined not to do it again. But, when he gets involved in some chemical experiments, he leaves he poor bride-to-be Betsy (Nancy Olsen) stranded at the altar again. Although his weddings plans are not successful, his experiments are --he develops a black and rubbery substance that bounces very high and seems to defy gravity. He calls it "flubber." When he substitutes the formula for the motor in his old Model T Ford, he can fly through the sky in his car. Continuing on with practical uses for the substance, he applies it to the college basketball team's sneakers, permitting them to rocket over the heads of the opposing team and win an easy victory. But when word of Brainard's discovery comes to the attention of nefarious alumnus Alonzo Hawk (Keenan Wynn), Hawk plans to steal Barinard's car and his formula to "flubber."
News & Interviews for The Absent-Minded Professor
Critic Reviews for The Absent-Minded Professor
Audience Reviews for The Absent-Minded Professor
½
Full of charm and hard to dislike.
Marcus Woolcott
Super Reviewer
I liked this movie a lot compared to the remake with Robin Williams. This movie is cool, funny, and exciting. I really liked it and I recommend it over the new one.
Leigh Ryan
Super Reviewer
The Absent-Minded Professor Quotes
There are no approved quotes yet for this movie.