ABCs of Death 2
(2014)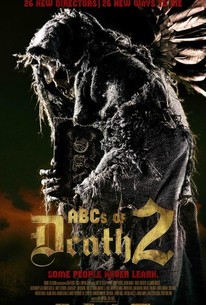 TOMATOMETER
AUDIENCE SCORE
Critic Consensus: ABCs of Death 2 delivers some inventively gory thrills, offering a surprising (albeit still somewhat uneven) upgrade over its predecessor.
Movie Info
ABC's OF DEATH 2 is the follow-up to the most ambitious anthology film ever conceived with productions spanning from Nigeria to UK to Brazil and everywhere in between. It features segments directed by over two dozen of the world's leading talents in contemporary genre film. The film is comprised of twenty-six individual chapters, each helmed by a different director assigned a letter of the alphabet. The directors were then given free rein in choosing a word to create a story involving death. Provocative, shocking, funny and at times confrontational, ABC's OF DEATH 2 is another global celebration of next generation genre filmmaking. (C) Magnet Releasing
News & Interviews for ABCs of Death 2
Critic Reviews for ABCs of Death 2
Audience Reviews for ABCs of Death 2
½
Films A, B, C, D, J, Q, S, V and Z are all genuinely excellent, leaving quite a few more that are good and the rest average to terrible. The diversity and brevity of the shorts add to this anthology's strengths - a significant improvement over ABC1. Let's just forget "P" existed though.
Daniel Parsons
Super Reviewer
½
Twenty-six new film shorts explore the macabre in ABCs of Death 2. As with the last film, 26 directors (using various styles and genres) present a series of vignettes related to death. However, they're not as clever as before, or as daring. The majority are fairly straightforward killings, with a supernatural element here or there. Yet there are a few exceptions (such as Amateur or Ochlocracy) that take interesting turns. Still, for the most part the film's a gratuitous exorcise in violence and gore. A pale imitation of its predecessor, ABCs of Death 2 lacks the edginess and horrific imagination of the original.
Dann Michalski
Super Reviewer
You know, I found a lot of faults with the first ABCs of Death film. And they were the same faults that you would come to expect from almost every anthology film, and that is that the there's some unevenness about the quality of the shorts themselves. As far as I remember, there were 12 good shorts out of 26, putting it at just a little less than half that were good. But out of those 12 good ones, there were also ones that were out of this world and that elevated my view on the film. I appreciated the first film's variety in both style and selection of filmmakers from all over the world. The sequel also follows the same formula because, while I didn't give the first ABCs a good rating, it's actually a really fun concept to watch play out because of the fact that you're not expecting what's to come. But, and I don't know why, as a whole, I think, the segments are consistently better than they were in the first movie, yet I actually found the overall product to be worse than the original film. I do not know exactly why that is, to be honest, but I was really disappointed by this and I can't quite put my finger on why that was. Part of me feels that while the shorts were consistently better than they were in the first one, it was also missing one or two really outstanding shorts that would've taken it to the next level. I guess you could argue that the last segment of the film, Z is for Zygote, was pretty damn great, but by this point the disappointment has already set in and while Zygote is an excellent standalone short, it's not better than the best short in the first film, which would be XXL. If you saw the first one, then you would most certainly remember XXL. M is for Masticate is also really good, if only for its funny ending. Y is for Youth is also Japanese weirdness and it is very good as well. One thing I must say about Youth and that is that it wasn't nearly the weirdest short in the entire film. That honor would go to Zygote. And that's something I never thought I would write in this review. The Japanese were outweirded here, believe it or not. Part of the problem with this type of anthology film, that has 26 different filmmakers all trying to stand out one way or another, is the fact that a lot of them are going to try some weird shit in order to stand out from the pack. And that's fine, it's the nature of the beast, but the problem comes in the fact that a lot of these shorts come across as trying way too hard to stand out. Some of it, honestly, felt contrived and forced. Not that I blame the directors themselves for this, they have a very limited amount of time to tell their story and get out. And not getting a lot of time will simply have that effect. You don't have enough time to properly set up your story before you've already got to end it. Much like the first ABCs, I don't think any short went past 6 minutes. If I have to go through the letters to recommend for people to watch it'd be: A, C (which has the best decapitation scene in horror history), D, E, H, M, S, T, W, Y, Z. It's got one less than the number of good shorts as the first film, now that I look at it. But, as mentioned, the good ones here are not nearly as good as the ones in the first film, so it's a clear step down. It just sucks that there wasn't one real standout short outside of Zygote. I wouldn't say that any of the shorts were outright terrible, there were some terrible shorts in the first one, but I did not like N is for Nexus one bit. There was also the only Nigerian short in the film, which I get the feeling was purposely terrible, but I wouldn't call it good either. There's one P is for P-P-P-P Scary! that's more of a tribute to old black and white comedies, it doesn't really do much for me, but I did think the title was funny because they very openly cheated. J is for Jesus is decent, but I wouldn't call it good at all. Honestly, it's not even the fact that you're repeating the same concept, because 26 different directors means different perspectives and styles of storytelling. It's just that it doesn't match up at all. I still think the film is fun to watch because of the unpredictability of all the shorts themselves. I wouldn't call it a good movie, hell I wouldn't call it an average one, but it's fun to watch because of that. Not knowing what you're gonna get next is part of the fun. It's probably a movie that's better watched with fellow horror geeks, I think it's that type of movie. I honestly don't think it works as well alone as it would with a group of people. And I mean like a group of, maybe, 4 or 5 people. It's definitely that type of movie. Not trying to make excuses for it, since I did watch it with someone, but I still didn't enjoy this that much. I think there's some really cool segments here but, and I think by this point I'm overstating this, but the lack of a real memorable segment really hurt this film in the long run. Certainly watchable and fans of the original should be suitably satisfied, but I felt it missed the mark more often than it hit it.
Jesse Ortega
Super Reviewer
ABCs of Death 2 Quotes
There are no approved quotes yet for this movie.