Abashiri Family (Abashiri Ikka: The Movie)
(2009)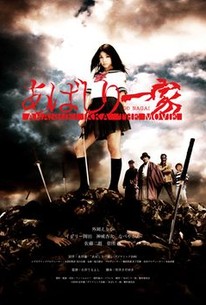 AUDIENCE SCORE
Critic Consensus: No consensus yet.
Movie Info
Kikunosuke, the daughter and toughest member of the much-feared Abashiri Family, finds herself attending Paradise Academy with no memory of her past. Eventually it's revealed that the school is controlled by the Abashiri's greatest rivals, the Danjuro family, and they've not only wiped her memory, but also implanted an anti-aggression chip in her brain.
Critic Reviews for Abashiri Family (Abashiri Ikka: The Movie)
There are no critic reviews yet for Abashiri Family (Abashiri Ikka: The Movie). Keep checking Rotten Tomatoes for updates!
Audience Reviews for Abashiri Family (Abashiri Ikka: The Movie)
Teruyoshi Ishii gets the call to generate a live action movie based off of Go Nagai's manga Abashiri ikka.
The story is more than satisfactory for a lower budget film that runs just under 70 minutes, and the pacing is brisk with some good emphasis on characters. The introduction for the members of the Abashiri family is phenomenal, as the film uses many clip arts from the manga. In fact, this high quality introduction sort of degrades the rest of the movie.
The action isn't outstanding in any way. The gore effects are over the top and the CG is inferior; however, it all blends in with the off the wall nature of the film.
The eccentric cast of characters are amusing. The lovely Erica Tonooka is a nice pick for the lead and only daughter of the Abashiri family. Jiro Sato gets the gold star for the most wild overacting. The rest of the supporting cast easily fit into the other unusual characters.
Abashiri ikka hooks from the beginning and releases shortly thereafter, but by then the movie has reached its conclusion. In other words, this is a quick enjoyable sit through.
Abashiri Family (Abashiri Ikka: The Movie) Quotes
There are no approved quotes yet for this movie.