A Teacher
(2013)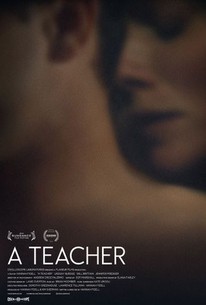 Movie Info
Part psychological thriller and part provocative character study, A TEACHER explores the unraveling of a young high school teacher, Diana (Lindsay Burdge), after she begins an affair with one of her teenage students, Eric (Will Brittain). What starts as a seemingly innocent fling becomes increasingly complex and dangerous as the beautiful and confident Diana gets fully consumed by her emotions, crossing boundaries and acting out in progressively startling ways. Lindsay Burdge delivers a deeply compelling and seamlessly naturalistic performance that brings us into the mind of an adult driven to taboo against her better judgment. (c) Oscilloscope Laboratories
News & Interviews for A Teacher
Critic Reviews for A Teacher
Audience Reviews for A Teacher
Cautionary tale about a young teacher who gets involved with a teenage student. The teacher was very sympathetic considering the subject matter could have been icky. Brief at 77 minutes long. Nicely acted.
Nicki Marie
Super Reviewer
Pretty bad not gonna lie. I didn't even watch the whole thing, I just fast forwarded through the boring parts which was like the entire movie. The majority of the movie is just poor choices of music that play over scenes where no real action is taking place. Like bad and loud music will play while the teacher is looking at the sunset for a long time at least 5 minutes-- just staring. That's not a good movie. There's also no plot to this movie. There's a teacher and a student that are hooking up. But we don't know how the relationship started which probably would've been the most interesting part of the story, but no we never find that out. We just know they are together. They hook up occasionally and that's really all that happens until the very end when the teacher loves the student so much she goes to his house and his father finds out about their relationship. Then the student sells her out and she gets fired from her job. Actually we don't even know what happens because the movie ends with her getting a phone call from the principal saying "hey you're gonna need to come in to the office we have a student here and his father". So we never know what happens. We just know she gets really sad and goes back to bed. The acting was horrible, so horrible at least the high school boy had okay acting skills. Although he looked more like a college student than a high school senior. He was way too ripped and built to be a high schooler. And the movie itself was just so poorly done I can't even begin to describe it. Half the scenes were done in the dark so you can't even see what is happening. Other times the camera stays on one angle the entire scene and its so BORING. The script sucks ass so what they say is not at all the least bit interesting. It's just a horrible movie overall. You can tell the director tried to be artsy and have a "underlying message" and capture the "intensity" of the forbidden relationship between the student and teacher, but he fails miserably on all accounts. There's no artistic value in this or underlying message, and with the shitty acting there's not much chemistry between the actors either. The director uses weird ass music and holds on shots wayyyy longer than he needs to, but none of it works because the director had no fucking clue what the hell he was doing. Whatever "emotion" he was trying to capture didn't work because there's no emotion. It's just a bad movie. In the end the only real message from this movie is common sense: Teachers who sleep with students will get fired. There's no need to watch this movie because you probably already knew that.
A Teacher Quotes
There are no approved quotes yet for this movie.