A Quiet Passion
(2017)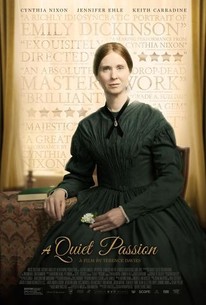 TOMATOMETER
AUDIENCE SCORE
Critic Consensus: A Quiet Passion offers a finely detailed portrait of a life whose placid passage may not have been inherently cinematic, but is made more affecting by Cynthia Nixon's strong performance.
Movie Info
Cynthia Nixon delivers a triumphant performance as Emily Dickinson as she personifies the wit, intellectual independence and pathos of the poet whose genius only came to be recognized after her death. Acclaimed British director Terence Davies (House of Mirth, The Deep Blue Sea) exquisitely evokes Dickinson's deep attachment to her close knit family along with the manners, mores and spiritual convictions of her time that she struggled with and transcended in her poetry.
News & Interviews for A Quiet Passion
Critic Reviews for A Quiet Passion
Audience Reviews for A Quiet Passion
Rarely do we see a film of great emotional power, and this is one. Not in spite of the way it speaks, but because it creates its own code and language: you are entering a unique space. Just as Emily's innocent-looking poems carry a vice-like, visceral grip when you actually read them, they roar into life under Cynthia Nixon's now-present and urgent speech, and a masterful screenplay written in its own poetry to harmonise with Emily's. The film is assiduously careful in its study of Emily, her time and place in history, and the selection of poems from her extensive body of work. Everything in the production is perfectly constructed. Nixon may yet be compared to the greats for her release of the character's inner life into the open, physically wrenched by Emily's drive, and her frustrations. The supporting roles are all exceptionally fine - to name only a couple, Emily's diminutive mother transports scenes into ethereal, poignant dimensions, plangent with missed experience of the world; Emily's dear, tender brother becomes like a ferocious animal in his anger, lust and grief. The themes of the film are grand - the lives of women, self-fulfilment, the importance of happiness and experience, religion, friendship, love, marriage, loss, grief and death. It demands that you take your life and wring everything that you can from it, and waste no time in doing so. The special effects, so sparingly applied, are astonishing - even just an opening door is breathtaking, in an alchemic scene hovering between love and death. Who would think that genteel 19th century Massachusetts, and the life of a young reclusive woman there, could reach so far today into the dark corners of soul, and then urge you to hurry up and live, pushing you out. Every word in this script is important and would repay viewing more than once to get it all. I cannot remember a more attentive cinema audience. What a pity you can't get more than one Oscar per category - this deserves at least a couple, and just for best film, to start with.
½
The kind of film Davies excels at. He effectively demystifies Dickinson's life (having a truly magnificent cast helps) while incorporating her poetry thematically. Also, despite the film's clear obsession with death the screenplay has a lot more wit and humor than you'd expect.
Alec Barniskis
Super Reviewer
When I recall the imaginings that I had when I first read the poetry of Emily Dickinson, I would be hard pressed to find a more accurate simulation of them than what is present in "A Quiet Passion". What I failed to take into account with those visions was the puritanical life that she was steeped in and how it affected her sorrowful yet poised disposition. Not only are we treated to a well-crafted biopic but also the story of a family's struggle with faith, gender roles, and sense of duty to each other. Dickinson's poetry gently nudges each scene on to the next as the camera quietly pans through the richly simulated Civil War-era/antebellum Massachusetts household her family shared. The rich ambiance of the candlelit conversations and the sunny walks full of wit bring what at first seems to be amateurish stilted performances into context. Obviously, director Terrence Davies captured these performances to be as such, but I still couldn't shake how unnatural much of the dialogue seemed. It is, however, effective at placing you there to feel the intellectual claustrophobia that women endured at that juncture in American history. Dickinson poured all of her strength into her poetry because she had no other option to thrive in such gilded circumstance. The restrictive and repressive environment fine tuned her skills as she contemplated eternity and became a timeless wordsmith, one of the greatest American poets. She would probably take no pride in the vanity of a biopic, but her story makes for a wonderful meditation of faith and womanhood that seems strangely timely. Cynthia Nixon captures much of these subtleties in her performance as Dickinson and has demonstrated herself to be an actress of many capabilities. Ultimately, "A Quiet Passion" is a slow, contemplative piece of film that's not for everybody but is crucial in understanding such an important figure in literary history.
K Nife Churchkey
Super Reviewer
A Quiet Passion Quotes
There are no approved quotes yet for this movie.