A Private Function
(1985)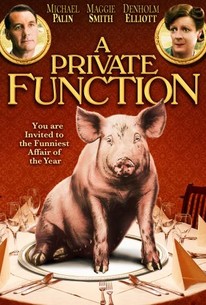 Movie Info
A Private Function is set in a postwar England sagging under the weight of restrictive food rationing. Under the watchful eye of Food Ministry inspector Bill Paterson, no one in his Yorkshire district dares do business with the Black Market. But he can't completely stop the food hoarders, of which social-climbing Maggie Smith is the most brazen. When Smith wants to appropriate a pig that is being fattened for slaughter in direct defiance of local laws, she enlists the reluctant aid of her husband, Michael Palin. Fetching the porker is one matter; hiding it in Palin and Smith's house is another. This zany central situation serves as the hub of a film that takes scattered satirical shots at bureaucracy, hypocrisy and too-rigid class consciousness. Throw in a few cruel, gross-out jokes, and you have a crazy concoction in the fine old Monty Python tradition. It's clear throughout that screenwriter Alan Bennett fully intended for the title A Private Function to have a double meaning.
Critic Reviews for A Private Function
Audience Reviews for A Private Function
A woman with social climbing aspirations compels her husband to steal a pig from rich people despite the town's food rationing program. This film is chuckle-funny, scattering a few witty moments. The supporting players, especially Richard Griffiths and the great Maggie Smith, are most responsible for the film's good scenes while Michael Palin doesn't do anything extraordinary to create a discernible character, quite unlike his Python work. Thematically, it's hard to tell what this film is satirizing. It's clear that class is at issue; the upper class characters act ridiculously, and Joyce's societal aspirations seem senseless as a result. But what is going on with the socialist food rationing? Is the film satirizing socialism? The answers to these questions aren't entirely clear. Overall, good for a few yuks, A Private Function isn't a bad film, but it's ultimately disappointing considering the overwhelming talent of its stars.
Jim Hunter
Super Reviewer
½
A fun little movie about a couple trying to make it in society during hard times. Love Liz Smith as always along with the rest of the cast.
Sunil Jawahir
Super Reviewer
A Private Function Quotes
There are no approved quotes yet for this movie.