A League of Ordinary Gentlemen
(2005)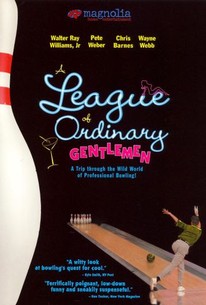 A League of Ordinary Gentlemen Photos
Movie Info
Can one of America's least glamorous sports survive a media-savvy makeover...and can it survive without one? In the 1950s and '60s, bowling was one of America's most popular sports, with millions spending their spare time on the lanes and watching professional bowling on television. However, the game's popularity took a nosedive in the 1980s and '90s, and matters only got worse when network television dropped regular bowling coverage. Eventually, the Professional Bowlers Association was bought out by a group of Microsoft executives, who pumped five million dollars into the organization and hired former football player Steve Miller to give the game a PR makeover in hopes of attracting a new audience. In A League of Ordinary Gentlemen, documentary filmmaker Chris Browne follows four professional bowlers -- Pete Weber, Walter Ray Williams Jr., Chris Barnes, and Wayne Webb -- as they scrape out a living on the pro bowling circuit and try to make sense of Miller's attempts to give the game a higher profile, with the solid play of Williams, who has won the PBA championship a whopping 39 times, often overlooked in favor of the "bad boy" showboating of Webber.
Critic Reviews for A League of Ordinary Gentlemen
Audience Reviews for A League of Ordinary Gentlemen
Youd think a documentary about bowling would be boring but I was suprised how much I enjoyed this flick.Great documentary
Brody Manson
Super Reviewer
A League of Ordinary Gentlemen Quotes
There are no approved quotes yet for this movie.