A Hero's Climb
(1999)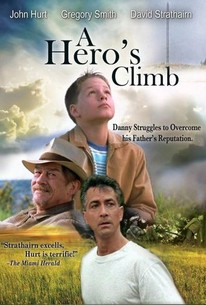 AUDIENCE SCORE
Critic Consensus: No consensus yet.
Movie Info
This warm-hearted drama chronicles the friendship between a troubled and picked-on 12-year-boy and an alcoholic, bad-tempered and terminally ill old neighbor. Their unlikely alliance is based on the old man's desire to die and the young one's need to prove himself courageous by climbing a 203-foot radio tower that has defeated all the other boys in town. He must hurry, for the tower has been deemed a safety hazard and will soon be demolished. Danny (Gregory Smith) wants to do this dangerous thing because he is tired of being teased and humiliated about his father, who has been branded a coward for not serving in Vietnam. The neighbor Mr. Langer (John Hurt) is slowly dying of lung cancer and only wants to die with dignity. Langer asks Danny to bring him a gun, but Danny who is Catholic, refuses to do this. Still a friendship forms that results in Langer's helping Danny to devise a rattletrap system of ropes and pulleys attached to a parachute harness to help him reach his goal. When the climb goes terribly wrong, it is up to Danny's father (David Strathairn) to prove himself and try to save the day.
Critic Reviews for A Hero's Climb
All Critics (4) | Top Critics (2) | Fresh (3) | Rotten (1)
John Hurt, the star of The Climb, is an actor with an often staggering capacity for conveying human suffering.
June 4, 2007

[John] Hurt infuses the part with wicked humor, a mix of wisdom and despair. He creates a beautiful portrait of a man who can't wait to be done with life.
It's properly nostalgic, beautifully made, and has a little something for everyone.
Audience Reviews for A Hero's Climb
In "The Climb," a boy named Danny wants to climb a tower in order to prove to his father and the bullies that he's not a coward. He finds an old man that wants to commit suicide. Since Danny (Gregory Smith) won't get the gun for the old man, the man agrees to help him get to the top of the tower just as long as he thinks he can get back down. But there's one thing that goes wrong, Danny breaks his arm a few days before he plans to climb to the top of the tower. "The Climb" is a little slow getting started, so you probably won't get real interested in it until Danny and the old man actually go to the tower and start carrying out their plan. About the only thing that will keep you interested before then is the old man's performance, he does a great job and so does Danny. If you like drama movies, I would recommend seeing "The Climb." It is interesting and toward the end of the movie when the climb is taking place, it has some good suspense. NOTE: That was my Amazon review from the year 2000. I haven't seen this movie since, just the one time on TV....but I still remember a lot of it! That says a lot about a movie, must've made a great impression!
Jason Owens
Super Reviewer
A Hero's Climb Quotes
There are no approved quotes yet for this movie.