A Grand Day Out With Wallace and Gromit
(1989)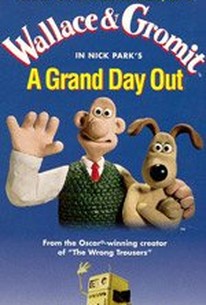 A Grand Day Out With Wallace and Gromit Photos
Movie Info
It's another bank holiday in northern England, and eccentric inventor Wallace and his faithful dog, Gromit, are sitting around the house with nothing to do. While poring over stacks of travel magazines, Wallace suggests that the pair break for a hot cup of tea and some cheese. When he discovers that there's no cheese to be found anywhere in the house, he hits upon an ideal place for a picnic: "Everybody knows the moon's made of cheese." With Gromit's help, he immediately starts construction on a rocket ship, and before long the two are walking on (and tasting) the lunar surface. As they continue to explore, they are blissfully unaware that they -- and their rocket -- are being watched by a creature that has dreams and aspirations of its own. ~ Emru Townsend, Rovi
News & Interviews for A Grand Day Out With Wallace and Gromit
Critic Reviews for A Grand Day Out With Wallace and Gromit
Audience Reviews for A Grand Day Out With Wallace and Gromit
Sylvester Kuo
Super Reviewer
the earliest film i remember seeing i always was intrigued by stop motion and this film expanded on my attraction to it. To me my favorite character in the whole Wallace and Gromit franchise is Gromit just because you can just look at his face and you can tell whats going through his head even though he doesn't talk its all in the eyebrows and body language and to me that's what makes everything about Wallace and gromit fun for everyone, young & old.
Michael Edwards
Super Reviewer
I remember watching this late at night on PBS when I was a good, thinking it was one of the most amazing things I'd ever witnessed. The tale that paved way for many more delectable adventures, it's hard not to consider Nick Park's long-processed flick a classic.
Thom Mirem
Super Reviewer
A Grand Day Out With Wallace and Gromit Quotes
There are no approved quotes yet for this movie.