A Good Day To Die Hard
(2013)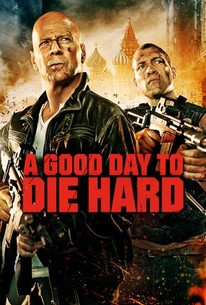 TOMATOMETER
AUDIENCE SCORE
Critic Consensus: A Good Day to Die Hard is the weakest entry in a storied franchise, and not even Bruce Willis' smirking demeanor can enliven a cliched, uninspired script.
A Good Day To Die Hard Photos
Movie Info
John McClane (Bruce Willis) heads to Russia in this fifth installment of the Die Hard film series. Skip Woods (The A-Team) provides the script, with Max Payne's John Moore directing. ~ Jeremy Wheeler, Rovi
News & Interviews for A Good Day To Die Hard
Critic Reviews for A Good Day To Die Hard
Audience Reviews for A Good Day To Die Hard
½
I cant believe I liked this movie the first time i saw it, probably because i was so excited for another die hard film that i was totally ignoring every little detail that made the movie bad and excepted it, but in the end its escapism but sadly there is no escape from this new chapter in the series, which should be titled Death of a Franchise. It's too fast-paced, the plot is always unclear, Jai Courtney and Bruce Willis have no chemistry what so ever and it feels like a season of 24 with John McClane as a backup character. The most memorable action sequence is near the conclusion and the ending is the only satisfying part of this film. A very rushed piece of work with no plausible villain and just takes a steaming dump of the franchise
½
Some people felt Live Free or Die Hard was a low point for the series, and that it really didn't fit in with the rest of the films. Who would have thought that it could have gotten worse. For the record, I like the fourth Die Hard film, despite its flaws and ridiculousness. But yeah, what we have here is the true low point for the series. It's really not even a Die Hard film. Maybe just going by the name and the inclusion of John (and technically, Jack) McClane, but that's about it. This is basically just a dumb, typical action movie that happens to have John McClane in it. He's not even really the focus. The film has no real reasons for existing, but the plot our beloved McClane gets shoehorned into sees him going to Moscow to rescue (or so he thinks) his estranged imprisoned son, only to find himself caught up in a CIA mission to thwart terrorists bent on nuclear weapons based domination lead by none other than his own son. Seriously. That's the plot. There's no reason for the older McClane to be here. He's not a cop in this one, just a tourist who happens to be an ass kicker. They try to balance the action with a father/son dynamic, but it's not very original or compelling, and even the action is rather blah and uninspired. It's also executed and edited rather choppily, so I had no idea what was going on most of the time. The film does mark a return to R rated territory, but it feels forced. The action is really just strong PG-13/very light R rated stuff, and yeah, there's some strong language, but it sticks out, and feels like they added just enough swearing to earn this an R rating just to appease fans. The film's treatment of Russian culture, history, and geography, as well as it's portrayal of how nuclear radiation works (the climax is at Chernobyl), is all very shallow, annoying, and wrong. Yeah, I basically hated this movie. This is a rare thing for me in general, but especially for something like this. There's really nothing all that spectacular here. Sure, I did enjoy the explosions, but that's just because I always find something to like with every movie I see, even dreadful crap like this. Here's to hoping they finally end this series already, or at least redeem themselves drastically if they feel the need to make another one.
Chris Weber
Super Reviewer
They should have stopped officially at 3 but although 4 was enjoyable its annoying directors milk a good idea and make it terrible. This fifth installment is amusing and explosive but theresnot much to it to make it that awesome Action packed movie it was back in the 80's when the original began!
Film Crazy
Super Reviewer
A Good Day To Die Hard Quotes
There are no approved quotes yet for this movie.