A Fond Kiss
(2004)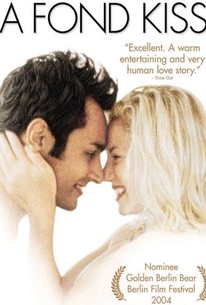 Movie Info
Director Ken Loach and writer Paul Laverty team up again for the romantic drama Ae Fond Kiss. The filmmaking team's third film set in Glasgow, this story involves a mixed-race relationship that causes problems for all involved. Casim Khan (Atta Yaqub) lives with his Punjabi-born Muslim family in Scotland. He wants to open a nightclub with pal Hammid (Shy Ramsan), but his parents have arranged for him to marry his cousin Jasmine (Sunna Mirza). Then he meets Irish schoolteacher Roisin Hanlon (Eva Birthistle), whom he quickly falls for. After calling off his family-approved engagement, Casim is ostracized by his father, Tariq (Ahmad Riaz). Meanwhile, Roisin runs into a concerned priest (Gerard Kelly) when she tries to get a job at a Catholic school. Ae Fond Kiss won several prizes at the Berlin Film Festival in 2004.
Critic Reviews for A Fond Kiss
Audience Reviews for A Fond Kiss
½
A modern Romeo and Juliet story directed by Ken Loach. It may be a little soapy sometimes but it is always honest, told with simplicity and raising some solid questions about religious and cultural intolerance.
Carlos Magalhães
Super Reviewer
They speak English in Scotland, but you need subtitles to understand them. I really enjoyed this movie. It explores many aspects of cross-cultural relationships with honesty and without oversimplifying it. Although the main plot deals with a romantic relationship between a non-practicing Catholic and a Muslim, other subplots like the parents-daughter are equally interesting. Well done.
Cynthia S.
Super Reviewer
Ae fond kiss was more than a love story, it really spoke the difficulties from those of different backgrounds and religion when they fell in love. Family, society,careers, were deciding their lives. I enjoyed this movie from beginning to end.It had just the right amounts of humor and romance and drama to make it more enjoyable.Ken Loach showed the subjects of religion, race, and cultural differences in a very sensitive way. The actors had wonderful chemistry, which made the story believable and likable.It was very well acted, and I highly recommended this movie.
Daisy Maduro
Super Reviewer
A Fond Kiss Quotes
There are no approved quotes yet for this movie.