The 7th Dawn
(1964)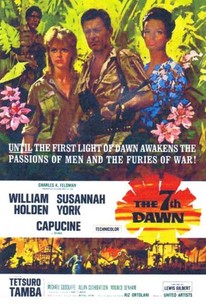 AUDIENCE SCORE
Critic Consensus: No consensus yet.
Movie Info
In this drama, William Holden plays Ferris, an American soldier who led troops in Malaya during World War II. After the end of the war, Ferris opts to stay in Malaya to seek his fortune. He invests in land there and does quite well, but soon his new life with his girlfriend, a local girl named Dhana (Capucine), is disrupted by local politics. Candace (Susannah York), the daughter of Malaya's British governor, is infatuated with Ferris, which puts a crimp in his relationship with Dhana. And one of his old buddies from the war, Ng (Tetsuro Tamba), reemerges with some disturbing news -- following the war, he spent several years in the Soviet Union and is now working with Communist-backed guerilla forces. Ferris doesn't want to help the British capture his old friend, but his friend seems to have no such scruples about framing his buddy Ferris. The Seventh Dawn was adapted from the novel The Durian Tree by Michael Koen.
Critic Reviews for The 7th Dawn
Audience Reviews for The 7th Dawn
When it comes to war movies William Holden ranks as one of the best and well rounded actors out there, stands right up there with the Duke (John Wayne). This movie is after the war, and film in Malayisa, where the common people want independance and a democratic goverment. William Holden plays a retired Colonel who is a land owner and is very much liked by the local peoplle. The Colonel war buddy is leading a group of rebels (terriorist) to overthrow the British Goverment. I was unable to finf this fil anywhere else other then Netflix instiant viewing, My first filkm to watch online and it was excellent. Have to givre it 5 Stars.
Bruce Bruce
Super Reviewer
The 7th Dawn Quotes
There are no approved quotes yet for this movie.