7:19
(2016)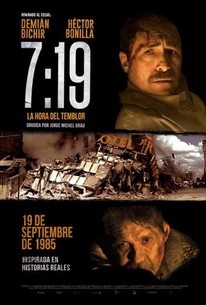 Movie Info
A night watchman and several employees of a Government office are in the lobby of the building they work in; they are there earlier than usual because of a special request. We can hear the early morning news on an old black and white TV that sits on the watchman's desk; news anchor Lourdes Guerrero reads the news. Unexpectedly, an earthquake buries all of them beneath nine stories of concrete and twisted metal. It's 7:19 in the morning on September 19, 1985. Along with them over 40 thousand people dissapppeared under the rubble of a defeated city. This is the story of Martin Soriano and Fernando Pellicer, two men who, just like thousands others in the most destructive earthquake in the history of Mexico, found an unjust but unavoidable death. "7:19 AM" is a feature lenght film that reflects on how and why one must leave this life. Two men that go from fear to anger on the road to resignation. Two men separated by their social status, their beliefs, their education and that, paradoxically, work in the same city and on the same building. Martin Soriano and Fernando Pellicer live on different universes but destiny forces them to face death together; now, more than ever, they will have to bring down the borders that divide them. An event that shocked the whole world, a tragedy that the Country has not been able to overcome. However, it helped discover the capacity for solidarity that lives inside all of us; the tragedy managed to erase the boundaries that separated us as Mexicans, the entire world blurred it's limits for an instant to show it's support and humanity.
News & Interviews for 7:19
Audience Reviews for 7:19
I had already started this review before something fucked up and it ended up disappearing. I had to save it to my documents because my internet was being a dick and it couldn't save the draft in Gmail. Hence my review, which wasn't long up to the point I got, was lost. I'll try to summarize what I said. I've never lived through a real legitimate earthquake. Seismic activity happens here every day, but they range from 3-5 on the Richter scale. I have clear memories of the 2011 earthquake, and subsequent tsunami, in Japan and it was just awful. I remember hearing the news right after I finished watching MegaMind and I remember seeing the news broadcasts of the tsunami and how horrifying it all was. It's the type of thing you never want to see happen ever again. But, sadly, that's a bit optimistic since earthquakes are a part of life due to the tectonic plates shifting. Anyway, this movie looks at the worst earthquake in Mexican history, the 1985 Mexico City earthquake. It uses that to tell its fictional story of this group of people, you only get to see two of them after the fact, the rest are on higher floor, who, pretty much, just have to wait to be rescued. In spite of not using real-life people to tell their story, it's still believable because it's a situation that's real. 99.9% of people might not ever go through this in their lives, but it's more possible than, say, being killed by a giant troll who dresses like Axl Rose. And the movie is fairly solid all things considered. The acting is quite strong, I love me some Demian Bichir. Mexico has some really strong actors and they're in display here. At least in the case of Demian Bichir and Hector Bonilla at least. The claustrophobic setting helps set the mood and the fact that the building keeps settling and buckling under its own weight adds some terrifying moments to the flick. But, by and large, the movie plays out pretty much exactly like you would expect. And, as hard as they try, you're never really invested in the characters as much as you are in their situation. You don't wanna see anyone go through this, so you root for them to get out, even though they may not be well-developed as actual characters. And I think the movie is that way by design. And I'm not saying the characters were poorly-written or anything of the sort, but they're not particularly strong either way. I remember a movie like Buried, or even 128 Hours, and those movies used its claustrophobic settings to tell great stories. This movie doesn't do that and, again, that's by design and I can't blame them for that, but I just wish I cared more for the characters other than just the typical 'they should get out of this' deal. I suppose there's some of that with Bichir's character admitting that he was partly to blame for the situation they were in. Allowing the building to be built with cheaper materials, etc. But I don't think that's enough to elevate the movie. I still think that the movie was good and all, but it was just missing stronger characters for it to be pushed to a higher level. As it stands, though, I still enjoyed this. And with the movie being around 86 minutes long or so, it really just flies by. This definitely could have been better, but I'd still recommend it if you have Netflix.
Jesse Ortega
Super Reviewer
7:19 Quotes
There are no approved quotes yet for this movie.