6ixtynin9
(2000)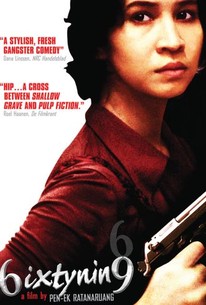 Movie Info
Following up on his acclaimed Fun Bar Karaoke, Pen-ek Ratanaruang directs this gritty thriller about crime, gangsters, and the will to survive in the wake of the 1997 Asia economic meltdown. After getting dumped from her office job, Tum (Lalita Panyopas) grows extremely despondent. She eventually discovers what appears to be a box full of instant noodle packages. Instead, the cartons are filled with cash -- about a million baht. It turns out that she received the money because of a gangland foul-up in which a six on an apartment address was mistaken for a nine. The thugs quickly figure out their mistake and come knocking once again. When she plays dumb about the dough, they get violent. Soon Tum has two corpses on her floor. Realizing that she needs to get out of town -- and fast -- she turns to Kanjit (Black Phomtong), a mob fixer with a passion for long massages. Unfortunately for Tum, the intended recipient of the ramen carton baht was Kanjit, and he quickly cottons on to Tum's dirty deed. Meanwhile, Tum's already stressful life is made all the more complex by a nosy neighbor (Sirisin Siripornsmathikul) and a close friend (Tasanawalai Ongarittichai) in dire straits. This film was screened at the 2000 Toronto Film Festival.
Critic Reviews for 6ixtynin9
Audience Reviews for 6ixtynin9
A mix of absurdity, violence and dark humor though the simple premise involving a bag of money and reversed door number that throw a lonely woman into the underworld lock, stock and instant noodles. Shot in a minimalist way, with little dialogue, 6inxtynin9 shows how a regular girl can get out of such a dangerous situation without any particular skill, contrary to most modern heroines. No swordfights, no martial arts, no fancy gun-play. Silly name, seriously hypnotic entertainment.
El Hombre Invisible
Super Reviewer
6ixtynin9 Quotes
There are no approved quotes yet for this movie.