5x2
(2004)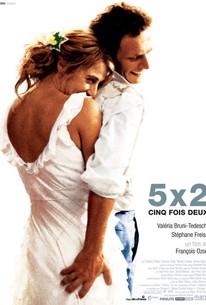 Movie Info
The rise and fall of one couple's marriage goes under the microscope in this drama from French filmmaker François Ozon. Gilles (Stephane Freis) and Marion (Valeria Bruni-Tedeschi) have filed for divorce following several years of marriage, and after the judge declares their union is over, the film follows the couple through five lengthy flashbacks, presented in reverse chronological order, in which glimpses of their lives together are shown, ending with the couple meeting for the first time. As the film follows the peaks and valleys of Gilles and Marion's relationship, viewers witness a few of the many small events that make up a marriage.
Audience Reviews for 5x2
½
A difficult film made more so by these completely self-absorbed, unlikeable characters. When first we see Marion (Valeria Bruni-Tedeschi) and Gilles (Stephane Freiss), they are in a judge's chambers as he reads the divorce decree that will terminate their short, mercurial marriage. In a series of scenes that march time backwards, we see the seeds of this breakup as they are sown, but not until the final scene, which is first in the sequence of events, do we realize how doomed this relationship was from the beginning. The methodology employed is certainly interesting and keeps one going, looking for the point at which hope was still alive, but the desolate answer is not the one we had wished for. The scenery, in some of the earlier (story-wise) locales, was quite lovely and the viewer is treated to some wonderful cinematography. The film certainly benefited from strong direction from Francois Ozon. But one ultimately wishes that these people were more sympathetic so that one could sense the tragedy more honestly. Not a lot of fun, and a whole lot of bad choices.
Mark Abell
Super Reviewer
Moving study of a relationship in reverse which highlights the inherent fragility of emotional bonds
Gordon Anderson
Super Reviewer
Average French drama-little romance movie at the present backward to the past story of a couple - Marion and Gilles.
Dean McKenna
Super Reviewer
5x2 Quotes
There are no approved quotes yet for this movie.