52 Pick-Up
(1986)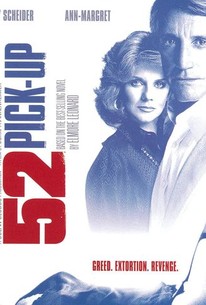 Movie Info
Wealthy metallurgist Harry Mitchell (Roy Scheider) lives to regret his extramarital affair with pretty young Cini (Kelly Preston). A trio of vicious blackmailers (John Glover, Robert Trebor, Clarence Williams III) show Mitchell a videotape of his most recent roll in the sack with Cini. They demand a huge amount of hush money, but Mitchell calls their bluff, going so far as to tell his politicially ambitious wife Barbara (Ann-Margret) about the affair. But the extortionists haven't even gotten started yet. Tying Mitchell to a chair, they force him to watch a tape of Cini being horribly murdered-with the evidence arranged so that Mitchell will be accused of the crime. But Mitchell remains firm in his refusal to pay up, whereupon he mounts a "fight fire with fire" plan all his own. 52 Pick Up was based on a novel by Elmore Leonard, which was previously filmed in 1984 as The Ambassador.
News & Interviews for 52 Pick-Up
Critic Reviews for 52 Pick-Up
Audience Reviews for 52 Pick-Up
A good thriller, it's exciting, dramatic, and even scary at times. I actually started to feel sympathy for the blackmailers towards the end of it. The actors are really terrific, all of them. The story is both realistic and incredible at the same time. It's really energizing in the end. And it's got just enough violence and action. I enjoyed this movie, and if you like a good thriller, you should check it out.
Musical score is the worst part, everything else is tense and great, including a series of propulsive crane shots and steadicam work that rolls behind and in front of characters. Scheider does an impressive job as equal parts tough guy and desperate man. Clarence Williams III and John Glover are truly terrifying, uniquely crafted monsters. For all Frankenheimer's skill in editing and new tricks with the camera, seeking out this movie is worth it simply because villains as disturbingly believable as Alan Raimy and Bobby Shy are rare; to have two of them fill the same movie is a dark miracle.
Adam Mahler
Super Reviewer
½
very under rated but thoroughly enjoyable crime/action film.....interesting story, capable acting by ann maraget and Scheider, and a terrific supporting cast...notably John Glover, who provides us with a uniquely interesting villian. Nothing new here, but with these strong performances it is a very entertaining watch...
52 Pick-Up Quotes
There are no approved quotes yet for this movie.