48 HRS
(1982)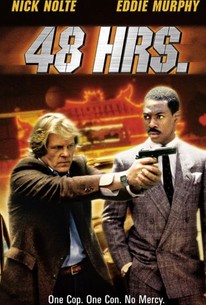 TOMATOMETER
AUDIENCE SCORE
Critic Consensus: Marking an auspicious feature film debut for Eddie Murphy, 48 Hrs. is a briskly paced action comedy that succeeds largely due to the outstanding chemistry between its two leads.
Movie Info
A variation on the "buddy-cop" hybridized genre, 48 HRS. greatly bolstered the career of Nick Nolte and made comedian Eddie Murphy a bonafide box-office sensation. When a pair of reckless cop-killers break out of prison, grizzled detective Jack Cates (Nolte) is left no alternative but to spring fast-talking hustler Reggie Hammond (Murphy) from the penitentiary in order to find the criminals. The catch: the pair only have 48 hours to complete their assignment before Hammond must return to prison. Naturally, the two despise each other and even engage in fisticuffs, but eventually the danger facing them proves a strong enough common bond for them to play on the same team, and even achieve a little mutual admiration. ~ Jeremy Beday, Rovi
News & Interviews for 48 HRS
Critic Reviews for 48 HRS
Audience Reviews for 48 HRS
This is yet another formulaic action film from the overblown eighties, complete with naked broads, gunplay, and a maniacal killer. Much like other eighties films there's a deadline before everything blows up in the protagonist's face and someone dies. This is the first Eddie Murphy vehicle, made during his time on SNL and led to his impressive film career. Here a hostage situation leads to a craggy policeman going on a vendetta with the unneeded deaths of two police officers, and springing a convict from his cell for 48 hours to help catch the guys responsible. While Cates (Nick Nolte) is an irresponsible, violent, and corrugated kind of cop, he does abide by some rules. Though he continually tries to apprehend the criminals and get information he needs through illegal means he always comes close before being foiled by other policemen who don't know he's a cop. After finding out that a convicted criminal may hold the key to finding the place where money for a hostage will be exchanged, he springs Reggie Hammond (Eddie Murphy). The rest of the film is the two playing off one another while being shot at and running after bad guys in elaborate car chases throughout the city. Though there's a lot of great dialogue and social commentary in this film, Nolte and Murphy are not an appropiate pairing. Both are loose cannons, and though Reggie is more talk than anything, he still engages in dangerous situations and exhibits little to no fear. Cates also shows no fear, and bumbles through every encounter with a crook like a godlike entity that can ricochet bullets and kill off everyone in his way. They aren't tortured heroes and aren't especially interesting except for their feats of daring. I don't see any real character development besides Nolte being grumpy and Murphy being a smart ass. If there was more balance, or at least some backstory for Reggie this would feel like a much more comprehensive film. The action isn't very engaging and very little of this doesn't drag. Except for being a platform for Murphy's off the wall humor at times this has very little appeal.
Spencer S.
Super Reviewer
½
I feel REALLY late to the party on this one. Good, but nothing spectacular. To be fair this movie has been copied, parodied, and ripped-off so much it's hard for it so seem as fresh as I'm sure it was when it came out.
Ken Stachnik
Super Reviewer
A great action comedy film about a partnership between a cop and a convict as they try to bring down a cop killer. The combination between Murphy and Nolte is fantastic! The plot is solid and the action is in full supply. A film with lots of action, laughs, and great acting make this film engaging and an enjoyment to watch.
Shawn Ewing
Super Reviewer
48 HRS Quotes
There are no approved quotes yet for this movie.