300
(2007)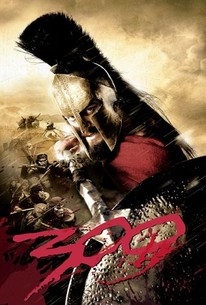 Movie Info
Sin City author Frank Miller's sweeping take on the historic Battle of Thermopylae comes to the screen courtesy of Dawn of the Dead director Zack Snyder. Gerard Butler stars as Spartan King Leonidas and Lena Headey plays Queen Gorgo. The massive army of the Persian Empire is sweeping across the globe, crushing every force that dares stand in its path. When a Persian envoy arrives in Sparta offering King Leonidas power over all of Greece if he will only bow to the will of the all powerful Xerxes (Rodrigo Santoro), the strong-willed leader assembles a small army comprised of his empire's best fighters and marches off to battle. Though they have virtually no hope of defeating Xerxes' intimidating battalion, Leonidas' men soldier on, intent on letting it be known they will bow to no man but their king. Meanwhile, back in Sparta, the loyal Queen Gorgo attempts to convince both the skeptical council and the devious Theron (Dominic West) to send more troops despite the fact that many view Leonidas' unsanctioned war march as a serious transgression. As Xerxes' fearsome "immortals" draw near, a few noble Greeks vow to assist the Spartans on the battlefield. When King Leonidas and his 300 Spartan warriors fell to the overwhelming Persian army at the Battle of Thermopylae, the fearless actions of the noble fighters inspired all of Greece to stand up against their Persian enemy and wage the battle that would ultimately give birth to the modern concept of democracy. ~ Jason Buchanan, Rovi
News & Interviews for 300
Audience Reviews for 300
300' is a totally riveting masterpiece of film making. Zack Snyder, inspired by the graphic novel, has brought a 2487 year-old news story to life with people you really care about who are faced with choices between compromise and war that are all too familiar today. The breath-taking CGI images are flawlessly integrated with the live action. All the actors are excellent in their roles, and Butler IS Leonidas. The sound design is excellent. The score was recorded by the London Phil with a full chorus and is beautiful to listen to, but is very reminiscent of 'Gladiator' which detracts from the otherwise total originality of the film. This movie integrates the potentials of film-making and story-telling in a wonderful new way that is the best of both entertainment and artistic achievement. 4 Stars 9-24-07 (Updated)
Bruce Bruce
Super Reviewer
Gerard Butler gives a commanding performance (the best of his career so far) as Spartan King Leonidas in this intense, surreal, epic, and beautifully shot, edited, and directed historical fantasy. Snyder has created a great and unique cinematic experience that, while not being completely historically accurate, is a wonderfully entertaining and stylish take on the Battle of Thermopylae in which a small group of Spartan warriors do battle against a vastly overwhelming number of Persians who wish to conquer them. Though this film is largely style over substance, it does have some deeper themes and what not going through it, chiefly that of fascism. You root for the Spartans, and you're rooting for fascism. Kinda like Starship Troopers though not quite as brilliant. The slow-mo gets a tad overused, and yeah, the Persians are undeniably portrayed as perhaps too fey and sibilant, but hell, this is fun, not art. I actually prefer this to the graphic novel it's based on because this has much more story and depth. All in all, a bloody good show.
Chris Weber
Super Reviewer
Zack Snyder stays true to 300's comic book origins, and the style makes the story feel like something out of a myth. This definitely works to enhance the larger than life experience unfolding on screen. The animated blood effects make the film feel less gruesome than it could have been. A pretty solid, well rounded B-action picture.
Edward Boxler
Super Reviewer
300 Quotes
There are no approved quotes yet for this movie.