2 Brothers & a Bride
(2003)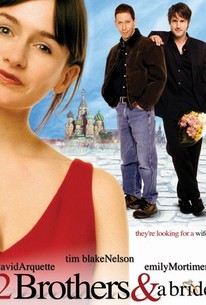 2 Brothers & a Bride Photos
Movie Info
Two men look for a wife -- just one will do, thank you -- in this offbeat comedy. Jake (Tim Blake Nelson) and Josh (David Arquette) are two brothers who live and work in a vegetable farm somewhere in the Midwest, where they're looked after by their Ma (Lois Smith), who cooks, cleans, and keeps the guys company. When Ma dies, Jake and Josh find they're a bit lonely all by their lonesome, and more importantly, they're not much good at everyday domestic activities, so they decide to do the sensible thing -- one of them will get married so they'll have someone else to talk to and handle things in the kitchen and the laundry room. Woefully naïve, socially clumsy, and less interested in romance than day-to-day practicalities, Jake and Josh decide to head out on a matchmaking tour to St. Petersburg, Russia, where they're promised introductions to hundreds of women over the space of two weeks, in hopes that they'll find an understanding, old-fashioned wife who doesn't mind having a third wheel around at all times. A Foreign Affair was shot on location in St. Petersburg in the former Soviet Union, and in Chihuahua, Mexico, which stood in for the United States.
Critic Reviews for 2 Brothers & a Bride
Audience Reviews for 2 Brothers & a Bride
I really, really liked this movie. It is not a laugh out loud kind of comedy, It is a subtle, humorous look at two brothers' quest in finding a wife in another country. It was nicely done, well acted, and very charming. AND I am not a David Arquette fan by ANY stretch of the imagination, but I really liked him in this.
Cynthia S.
Super Reviewer
2 Brothers & a Bride Quotes
There are no approved quotes yet for this movie.