25th Hour
(2003)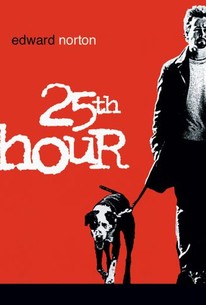 Movie Info
The clock is ticking on Monty Brogan's freedom--in 24 hours he goes to prison for seven long years. Once a king of Manhattan, Monty is about to say goodbye to the life he knew--a life that opened doors in New York's swankiest clubs but also alienated him from the people closest to him. In his last day on the outside, Monty tries to reconnect with his father, who's never given up on his son, and gets together with his two closest friends from the old days, Jacob and Slaughtery. Also in the mix is his girlfriend, Naturelle, who (or might not) have been the one who tipped off the cops. Monty's not sure of much these days. But with time running out, there are a lot of choices to be made.
Critic Reviews for 25th Hour
Audience Reviews for 25th Hour
½
With an overly depressing color palette, awfully jumpy editing, subplots that go nowhere and an ubiquitous melancholy music that never stops for a second, Spike Lee overloads his film and seems desperate to drag us into a bottomless abyss of sadness at nearly all costs.
Carlos Magalhães
Super Reviewer
A riveting, hard hitting look on the life of a soon to be con (Edward Norton), and his final day of freedom as he spends it with his childhood friends (Barry Pepper and Philip Seymour Hoffman) and girlfriend (Rosario Dawson), as he tries to uncover who ratted him out on selling drugs that landed him a 7-year sentence. Norton, one of the best actors on the planet, is spellbinding, and a terrific supporting cast to go along with the fantastic storytelling of Brian Cox near the end makes it a knockout. For those who love films that effortlessly detail their characters, who we come to care for, this is a movie for you. The ending is one of the most unique I can recall, and the ambiguous nature of it is really haunting stuff.
Dan Schultz
Super Reviewer
Spike Lee is a tremendous filmmaker. Sure, he can be a little overzealous and his politics can be stifling, but it's sort of tragic how he's seemingly more known for his controversial subject matter than he is for being an outstanding (and important) director. Indeed, he is one of very few who can simultaneously pull off being a sound visual stylist and a thorough storyteller. Next to Do The Right Thing, there may be no better example of this than 25th Hour. One of the first American movies explicitly set in New York after 9/11, this film is based on a novel by David Benioff (who also wrote the screenplay) that was published well before the attacks. In any case, their aftermath is not so much the topic of Mr. Lee's movie as an important element of its atmosphere. In one of the film's most memorable scenes, two characters talk in an apartment overlooking ground zero, whose floodlighted glare and somber activity make it impossible to concentrate on the dialogue: a case of reality overwhelming fiction. There are also more subtle nods to the aftermath of those horrific events, but Lee smartly doesn't ovedo it; he uses the sociopolitical landscape of a post-9/11 America to great effect here, weaving it into the fabric of his story as a means to enhance, not distract. Undoubtedly, the show-stopping scene in the film is a moment when Monty (Edward Nortion), staring into a men's room mirror, launches into a profane tirade against his fellow New Yorkers (and everyone else). His rage is impressively ecumenical, encompassing blacks, brutal police officers, gays, Osama bin Laden, the rich, the poor and every other ethnic or social type you can think of: all of them put down with ruthless, scabrous precision. Obviously the sequence is very reminiscent of a similar scene in Do The Right Thing, but surprisingly, it's equally as effective here as it was back then (which could be viewed as a powerful statement on how little progress we've made over the years). Of course I'd be remiss if I didn't mention the brilliantly ambiguous ending. It is Lee's mission statement that this isn't a film about a plot, with a beginning, middle, and end. This is an imprint of the isolated times we live in. Who are we as a people? How do we define ourselves in relation to others? The whole film plays in a subdued, almost depressing tone. There are no laughs to be had, no falsely engineered moments where the characters break bread, and cry, and get all remorseful -- none of that. We feel as Monty feels: perplexed, distressed, unsure of those things to come and angry for how he happened to arrive at this place, and moment, in his life -- his last 25 hours.
Jonathan Hutchings
Super Reviewer
25th Hour Quotes
There are no approved quotes yet for this movie.