24 Hour Party People
(2002)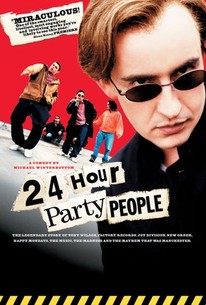 24 Hour Party People Photos
Movie Info
Spanning from the 1970's to early 1990's, this is the story of the Manchester music scene... Tony Wilson is an ambitious but frustrated local TV news reporter looking for a way to make his mark. After witnessing a life-changing concert by an unknown band called the Sex Pistols, he persuades his station to televise one of their performances, and soon Manchester's punk groups are clamoring for him to manage them. Riding the wave of a musical revolution, Wilson and his friends create the legendary Factory Records and the Hacienda Club, and bands like Joy Division, New Order, and the Happy Mondays emerge to change the industry forever.
News & Interviews for 24 Hour Party People
Critic Reviews for 24 Hour Party People
Audience Reviews for 24 Hour Party People
½
While I have yet to check out his entire canon, Michael Winterbottom continues to impress me time and time again. Oddly enough, even though I am never floored by any of his films, I always get excited when I see his name attached to one. I think it is because every time I sit down with one of his movies, I am given a completely unique experience. 24 Hour Party People is no exception & in many ways may be one of his most delightfully bizarre outings. In 24 Hour Party People, Winterbottom takes the viewer into the heart of the Manchester music scene of the late 80s. Not only that, but he does so through the eyes of the bumbling egomaniacal proprietor of Factory Records Tony Wilson (Steve Coogan). It feels like the film equivalent of a Vonnegut novel. The fourth wall is constantly broken & the story is built around sizable chunks of truth, bits of legend, sci-fi, rumors, and just flat out lies. Coogan's performance is terrific. Nailing the comedic bits but also infusing the role with a near psychopathic narcissism that is an absolute treat to watch. He character is always equipped with an amazing retort. After being chastised for getting tickets printed too late and therefore not being able to sell them all in time for an upcoming event, Coogan dryly but convincingly replies, "They didn't sell tickets to the Sermon on the Mount. People just turned up because they knew it was a good gig." In my opinion, Coogan and Winterbottom can do no wrong. Especially when they work together. Don't believe me? Then check out Exhibit A: 24 Hour Party People.
24 Hour Party People is the story of Factory Records, a defiantly eccentric independent record label based in Manchester, England, which discovered acts as influential and diverse as Joy Division and the Happy Mondays. The film is shot in mock-documentary style and narrated by Tony Wilson (Steve Coogan), the founder of Factory. Coogan portrays Wilson's double life as music svengali and cheesy local TV reporter to brilliant comic effect. Although Brits will draw the inevitable parallels between Coogan's Wilson and his ultra-naff TV persona, Alan Partridge, Coogan actually has Wilson off to a tee. Arrogant and pompous, Cambridge-educated Wilson is master of the pseudish sound bite (when he realises they have no tickets for a concert in his nightclub, he retorts `Did they have tickets for the Sermon on the Mount? Of course they didn't, people just turned up because they knew it would be a great gig'). But he also has a perceptive eye for the zeitgeist and his vision to create the Hacienda club transformed Manchester into Madchester, for a brief time the music capital of the world. The story really starts with an early Sex Pistols gig in Manchester, attended by only 42 people, most of whom went on to have an influence on the Manchester music scene of the next 10 years. Wilson was in the audience, together with members of the band who went on to form the brilliant post-punk pioneers Joy Division. The first part of the film is really focussed on them and their manager, the aggressive and cantankerous Rob Gretton ( played by Paddy Considine), and their producer, the irascible acid-casualty Martin Hannett (another superb cameo by Andy Serkis) - both of whom are no longer alive. Joy Division's lead singer, Ian Curtis, is portrayed so accurately by Sean Harris that it's positively eerie, and the scenes of the band playing in rundown venues seem remarkably true to life and capture effectively the rawness and intensity of their live performances. The film also deals, rather insensitively, with the death of Curtis, who's feet we see swinging after he has strung himself up on a rope in his house. This segues uncomfortably into a town crier announcing his death to the world, and ends with scenes showing Curtis's body in a coffin at the crematorium. From then on, the story continues with Joy Division's reincarnation as New Order and the building of the Hacienda nightclub, and the sometimes disastrous business decisions made by Wilson and Factory. When New Order released Blue Monday, the record sleeve was so expensive to produce they lost money on every copy sold. The single went on to become the biggest-selling 12' of all time, paradoxically crippling Factory in the process. The first nights at the Hacienda were also calamitous, with bands playing in front of single-figure audiences. Eventually however, the druggy indie dance kings Happy Mondays arrived on the scene, and acid house was born. Suddenly the Hacienda was the place to be and the Madchester rave scene became famous all over the world. The scenes of drugs-and-sex-excess on the Monday's tour bus and the re-creation of the Hacienda club nights are superbly portrayed. The final part of the film tells how gang violence led to the closure of the club and the drug-riddled misadventures of the Mondays, especially their singer Shaun Ryder, led to their downfall and had severe financial implications for Factory Records (Wilson had inexplicably sent them to Barbados to record their last Factory album). Eventually, Factory was sold, lock, stock and barrel, to another label (who were perturbed to find Wilson had not signed any contracts with any of the Factory bands, effectively giving the artists total creative freedom). 24 Hour Party People is a real rollercoaster ride. There are some brilliant acting performances, punctuated by cameos from real members of the Manchester music scene (such as Howard Devoto and Mark E. Smith). The merging of legend and reality may make it difficult for people unfamiliar with events to work out what actually happened. But this is no accurate, austere documentary, but a touching, sometimes surreal, and often very, very funny, anarchic portrayal of a time and a place and it's music. Oh, and of course, the soundtrack is fantastic.
Cassandra Maples
Super Reviewer
Brilliant film. Sharp and clever, lively and irreverent, Steve Coogan's break-out film portrays the Madchester scene, very specifically 1976-1992, when a new music was freeing the city and the nation around it. Watching this, it was so authentic I was sure that it was older. There's a special feature on the DVD where one of the actors talks about various films being "[city name]: The Movie" (e.g. Trainspotting = Edinburgh: The Movie). This is Manchester. But on top of its ability to capture a moment, we have a love letter to New Wave music and a biopic that's definitely outside the box. In the narrator's words, "I'm a minor character in my own story." Creative, fun and dramatic movie, perhaps one of the most relevant in recent British film history.
Daniel Perry
Super Reviewer
24 Hour Party People Quotes
There are no approved quotes yet for this movie.