20th Century Women
(2017)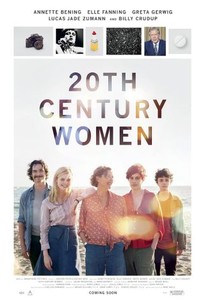 TOMATOMETER
AUDIENCE SCORE
Critic Consensus: 20th Century Women offers Annette Bening a too-rare opportunity to shine in a leading role -- and marks another assured step forward for writer-director Mike Mills.
20th Century Women Videos
20th Century Women Photos
Movie Info
During the summer of 1979, a Santa Barbara single mom and boardinghouse landlord (Annette Bening) decides the best way she can parent her teenage son (Lucas Jade Zumann) is to enlist her young tenants - a quirky punk photographer (Greta Gerwig), a mellow handyman (Billy Crudup) and her son's shrewd best friend (Elle Fanning) - to serve as role models in a changing world.
News & Interviews for 20th Century Women
Critic Reviews for 20th Century Women
Audience Reviews for 20th Century Women
½
It begins dull and uninteresting but later becomes an adorable and complex film drenched in nostalgia, with a great soundtrack, an Oscar-deserving award by Annette Bening and an impressive cinematography that makes it look like it was really made in the late 1970s.
Carlos Magalhães
Super Reviewer
½
Films like this seem to be inevitable each year. A tone that is off-putting, while still telling a compelling story, making the overall film solid, but underwhelming. In my opinion, films like last year's Carol or 2014's Foxcatcher came to mind when I was watching 20th Century Women. Almost all of the subject matter was interesting to me and everyone was giving great performances, but the very slow pace and dull tone really took away from the impact. Nominated for best screenplay at the upcoming Oscars, I can see why people are raving about certain aspects of this film. That being said, I found myself bored throughout the majority of this well-made film. I feel conflicted about this film, but nevertheless, let's dive in. From cancer to the loss of people close to you, this film explores many different aspects of the hardships of life. Focussing mostly on three women (all different ages) as they explore their lives in ways that most people do every day, at its core, 20th Century Women is really just about life and what comes with it. Taking place in only a few locations throughout the majority of the picture, it really is all about the characters at hand, which I found interesting, but also utterly boring. When a film like this is made, I always hope that every single character moves me in different ways, but everyone seemed so miserable most of the time that it just reflected in my reaction to the film as a whole. The biggest highlight of this film was watching the character of Julie, played very well by Elle Fanning. Her character slowly transforms throughout the film and realizes that certain things are better left alone. This was a trend I noticed throughout the entire film to be honest. The younger characters seemed to have much more to work with her, while the adults all seemed dead inside. I liked watching Annette Bening in films like The Kids are All Right or American Beauty, but her performance here was very one-note in my opinion. Her expressions were either depressing to look at or happy for a instant. There were many times where I was hoping it would cut back to the younger characters quicker, because they were just simply the best portion of the film. While I must admit that the direction is pretty terrific for the most part, the tone did not click with me. At least it was able to keep itself consistent throughout the course of the film, but the drab look just made me bored. I seem to be using the word boring a lot, but when there are no exciting moments in a film that is all about self-discovery and hardships, there really isn't anything to get excited about when talking about 20th Century Women. Now, as I mentioned, the tone itself is well-done and kept very consistent, so I was very impressed by the fact that they decided to go with a very quite route for this story. The style and editing choices really make this the definition of an indie film and I am glad this film was acknowledged in some capacity. In the end, Mike Mills has written and directed a very compelling piece of filmmaking and I can't fault him for a second. I do however think that his script could have been translated to screen in a more vibrant and energetic way. 20th Century Women takes itself very, very seriously, leaving hardly any fun to be had. There are moments when I was hoping for lighter music to be playing or certain scenes to be trimmed down, but everything seems to be very dragged out. It's the odd case where the film itself is very good, but still has numerous minor issues that bothered me throughout. This is also a film with tremendous editing and there were times when that element alone was sucking me in. I am going to recommend this film to a mature audience, due to the fact that its themed have been well-realized and require your full attention. Overall, 20th Century Women is a solid film that could have been great.
½
Few films are imbued with such love for its characters. Their warmth and passions and imperfections make their 1979 Santa Barbara boardinghouse home a shangri-la, always in repair but forever whole. Writer Director Mike Mills has given us a film to cherish and hold tightly, something to squeeze when it seems like the world no longer makes sense. 20th Century Women is an argument that it does not need to, so long as you revel in the existence of those around you, even if they're temporary.
Kase Vollebregt
Super Reviewer
20th Century Women Quotes
There are no approved quotes yet for this movie.