20 Million Miles to Earth
(1957)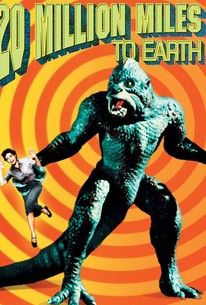 20 Million Miles to Earth Photos
Movie Info
One of special-effects wizard Ray Harryhausen's pre-Seventh Voyage of Sinbad efforts, 20 Million Miles to Earth borrows a few pages from King Kong. An American spaceship crashlands off the coast of Sicily. The rescue party discovers that the astronauts have inadvertently brought back a curious gelatinous mass from the planet Venus. This lump of goo rapidly evolves into be a living reptilian creature, which scientists label an "Ymir". While being subjected to laboratory experimentation, the Ymir begins growing by leaps and bounds, and before long the gigantic monstrosity has escaped and is wreaking havoc in Rome. After battling a zoo elephant and taking a swim in the Tiber, the gargantuan creature holes up in the Colosseum, where the film's pyrotechnic finale occurs.
Critic Reviews for 20 Million Miles to Earth
Audience Reviews for 20 Million Miles to Earth
½
Now you'd think judging by the lizard-like monster running around that this is yet another nuclear experiment gone tits up by the Americans. But no, this time its actually a captured alien from the  planet Venus that has been set free by some stupid little Italian kid with a cowboy fetish. So in this film there is life on Venus and man has been there!, some strong imagination there considering the intense surface heat, unsavory atmosphere and atmospheric pressure. The creature in question also seems to have a slightly aquatic look about it too, almost like the 'Creature from the Black Lagoon' or the Kraken, similar scaly appearance, but living on Venus is quite out of the question I'm afraid. Anyway realism aside this is your typical bog standard beastie runs amok affair really with very little on offer. I know that sounds really harsh but by this point we've had two good Harryhausen monster flicks and this does feel a bit of a rehash. We've had a giant four legged dinosaur-like lizard and a giant octopus, so this creature doesn't really feel very original, a bipedal dinosaur-like lizard creature. It still looks terrific of course, the usual high standards of Harryhausen. To be honest there is only one truly great sequence in this film for me and that's the fight against the elephant. Not only does it visually look excellent but the detail and animation for the elephant is some of Ray's best work for me, much better than the creature. Watch its movements and even the way he's captured the thick heavy skin...even around the elephants legs, the saggy skin. The other highlight is actually the old 50's footage of Italy and the Colosseum (yes the film is set in Italy). The film really gives a wonderful panorama of this ancient Roman architectural feat, truly superb, makes me wanna go see it asap ha!. Love how the Italian military are happy to shoot bazooka's at their priceless ancient ruins. Another slice of monster rampage that is fun in places but is bogged down with a lot of planning dialog and the usual romantic side plot. Glad they have changed the general storyline from nuclear weapons but end of the day the film is still a bit of a cookie cutter fan film. Shame we never find out more about the alien race from Venus or how they captured one, what was that jelly stuff they had it encased in? I think it was a baby, who knows.
Phil Hubbs
Super Reviewer
The biggest misconception about "Ray Harryhausen movies" is that people are under the impression that he was the sole creative driving force behind them when all he did was the special and mechanical effects. There are very few times when a film he works on turns out to be good. 20 Million Miles to Earth falls somewhere in between and winds up just being mediocre. The story itself is pretty silly and boring for the most part, mainly because there isn't any real tension for the characters other than the fact that there is a monster on a rampage. In other words, a lack of drama. Actually this movie reeks of King Kong, without being quite as good. There's some excellent camera work and some very good stop motion (as per usual), but the boring story doesn't save it. See it to see Harryhausen's work on display, which goes back to my original point about why people remember these films. His work is the most impressive thing about them.
Tim Salmons
Super Reviewer
A strange creature comes 20 million miles to Earth, obviously. This movie was okay, it has some great clay animation, but the story is kind of silly.
20 Million Miles to Earth Quotes
There are no approved quotes yet for this movie.