2001 Maniacs: Field of Screams
(2010)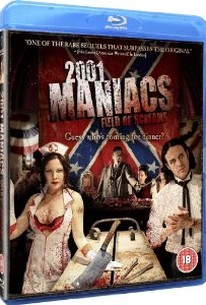 AUDIENCE SCORE
Critic Consensus: No consensus yet.
2001 Maniacs: Field of Screams Photos
Movie Info
College kids on their way to spring break take a detour through a small Southern town and are served up as the main course in a grisly annual barbecue celebration. Robert Englund stars in this outrageously campy and over-the-top horror yarn. Lin Shaye, Jay Gillespie, Giuseppe Andrews. Directed by Tim Sullivan.
Critic Reviews for 2001 Maniacs: Field of Screams
All Critics (2) | Fresh (0) | Rotten (2) | DVD (2)
Field of Screams will have its fans. It's certainly gory, crass, riddled with female nudity and off-the-wall antics. But the narrative never amounts to anything interesting.
Audience Reviews for 2001 Maniacs: Field of Screams
2001 Maniacs may not have been a masterpiece. It was sloppy, cheap, below-average acting at best, a hackneyed premise, and all together just not that enthralling. But it was twice the film Field of Screams could ever be! It is the superior in every concievable way. Well. All but one. Field of Screams did have the fine addition of Ogre (Above - Repo! The Genetic Opera and The Devil's Carnival) as "Doctor" Harper Alexander. He was enjoyed thoroughly. Everything else though! Throw it out! Go! Be gone! No more of you! Bill Mosely is a personal favourite, and has been since I first saw him play Chop-Top over a decade ago. He's far from new to the horror game, having had roles in Texas Chainsaw Massacre 3D, The Devil's Carnival, The Devil's Tomb, Repo! The Genetic Opera, House, Halloween, Werewolf Women of the SS (Grindhouse Teaser), Carnivale, House of 1,000 Corpses, The Devil's Rejects, Army of Darkness, Night of the Living Dead (1990), Silent Night Deadly Night III, The Blob, Freddy's Nightmares, Texas Chainsaw Massacre 2, Alone in the Dark II, The Alphabet Killer, Evil Bong, Blood Run, Corpse Killer and Evil Ed, as well as many more, and a great looking future in the industry ahead. He replaces Robert Englund as Mayor George W. Buckman. But despite my praises for Bill, in 2001 Maniacs, he simply does not cut it. The biggest, and honestly most unforgivable thing that they fucked the character with was not the fact that they decided to change characters, but the fact that his mother fucking eyepatch changed from his left to his right eye for no fucking reason! Seriously! In 2001 Maniacs, Englund's injured eye is his left, in Field of Screams, Mosely's injured eye is his right. 'The fuck... It was from the point about five seconds in when you first see this monumental cock up that I decided Field of Screams was probably not gonna be for me. It went downhill from there. Though the last film may have that cooky-so-bad-it's-good element every now and again, Field of Screams is just regular bad. Bad, bad, bad. I've physically seen worse movies in my day, but I try to avoid the likes of those. 20% -Gimly
One of the worst movies i've seen in a long time....The first 2001 was ok not a masterpiece but was fun enough to be good.This one just seem so low budget and low rent.The acting is the worst ive seen in years and Bill Moseley got to be one of the worst actors around at the moment..Just stay clear of this turkey at all costs...I just cant believe this was made be the director of the first 2001 Maniacs..
Brian De Guelle
Super Reviewer
½
Poor follow up to a well made remake. A few gory moments and some juvenile laughs done Troma style but its poor audio, bad editing and unlikeable cast bury this one deep.
A.D. Villarreal
Super Reviewer
2001 Maniacs: Field of Screams Quotes
There are no approved quotes yet for this movie.