1492: Conquest of Paradise
(1992)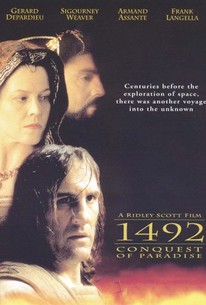 TOMATOMETER
AUDIENCE SCORE
Critic Consensus: Historically inaccurate and dramatically inert, Ridley Scott's retelling of Christopher Columbus' exploits is an epic without grandeur or insight.
Movie Info
This film adheres to the historical facts of Columbus' possessed quest to discover the New World and his solicitation of Queen Isabella to gain the necessary funding. Despite travelogue-quality footage replete with beautiful scenery of Caribbean islands and a massive cast, this film tends to plod along.
Critic Reviews for 1492: Conquest of Paradise
Audience Reviews for 1492: Conquest of Paradise
½
Despite its sweeping ambitions and some memorable images, 1492 is a film that calls too much attention to itself from the miscast roles to the phony accents to the inconsistent character development. The cinematography includes gorgeous shots of the golden sun hovering in the horizon as ships sail off as well as brilliant frames of silhouetted figures running across the native backdrop, and that is all nice, however, the narrative fails to complement as it becomes too plodding and especially cliche. 1492 is an earnest effort that in the end carries way too many flaws from the acting and story front to be considered a recommended viewing.
Sheldon Chau
Super Reviewer
Long associated with action films and high-brow science fiction adventures, 1492: Conquest of Paradise represents one of director Ridley Scott's less noted films. It's a film that is quiet, grandly scaled, beautifully shot, and very ambitious. It's also a film with narrative flaws, a lethargic pace, and perhaps an overly generous take on Columbus. The best thing about 1492 is Scott's world building. We are entreated to fantastic cinematography, with shots that capture the vastness, wonder, and yet stark nature of the real world. Scott films his scenes with a masterful sense of scope, never placing his characters above the scenery, as a skillful reminder of the grand stakes at play. The world-building is equally impressive, with sets that are fantastically realized. It's a period piece that doesn't simply look like its' period, but rather inhibits it. As such, the technical merits of 1492 can scarcely be questioned. The film's narrative, however, is a mixed bag. The performance by Gerard Depardieu was surprisingly strong, offering a more complicated view of Columbus than other film treatments. The supporting cast is also fairly well received, and is served by a script with intelligent dialogue and a keen eye towards subtlety. The trouble comes from the film's almost disengagement with its subjects. We see Columbus's struggles, but never feel them. We see the stakes, but never quite feel involved in them. The film suffers from a disengagement, most likely originating from it hands-off approach towards Columbus. Had the film tried to be more of a character study, giving us more of the human dynamics (particularly the politics involved), it would have been more successful. The treatment of Columbus is also undeniably generous, painting a man ahead of his time, relentlessly ambitious, but also exceedingly humane. History would perhaps suggest some of these notions are a bit dubious, Columbus was a rather hard man. Overall, however, I found the film engaging. The technical merits alone made it always watchable, and the story itself was treated with great respect by Ridley, who populates the story with interesting characters, strong performances, and large scale, though with plenty of problems along the way. 3/5 Stars
Jeffrey Meyers
Super Reviewer
½
I've never really been all that crazy about Ridley Scott as a director, but I think that he was a perfect choice to direct this, because when you look at his tastes, the son of a Brit appears to wish that he was American, and it doesn't get any more American than the story of Christopher Columbus, so long as you believe the ultimate testament to American culture is our diversity, because even our discovery story is riddled with different ethnicities playing key roles. Columbus was an Italian who sailed under the Spanish flag to Asia, only to accidentally land in America, nearly 500 years after Norse explorer Leif Ericson looked around, and mistaken its indigenous population for the Indians. Boom, y'all just got a history lesson; I bet you didn't expect to look into a historical film and actually learn something about history. If you actually have the mindset that all history film pieces are dubious, then maybe you should cut back on watching Oliver Stone historical films, or at least watch a Ridley Scott period piece other than "Kingdom of Heaven". I'm probably one of the last people to call anything pertaining to Edward Norton total bull (Except for "Down in the Valley"; he's not getting away with that), but it should be noted that they took some liberties with Baldwin IV of Jerusalem. So yeah, as you can tell, if I wasn't so bent on gunning for movie critic, then I would probably become a history teacher. Teaching the stuff has to be more exciting than seeing it acted out, because you'd be surprised how much less interesting history gets when it's being dramatized, and if you're expecting this film to be as slam-bang, unrelentingly thrilling as the aforementioned "Kingdom of Heaven" then, well, you're right, because outside of a good couple of awesome action sequences, that film was another awesome testament to Ridley Scott's being kind of a dry storyteller, and the same can be said about this film. I once heard someone describe the film as overlong, and at that moment, I couldn't help but wonder just what in the world they were talking about, because the voyage of Christopher Columbus sounds built for an epic runtime; in fact, 149 minutes sounded too short. Walking into it, I soon found that the film is in fact, well, justified in its 149 minute runtime, it just felt like it ran for forever. No, it's not that bad, but Ridley Scott's lack of oomph and palpable overambition dries and pulls at the film, leaving it to go limp and dull. With an overbearingly histrionic (Ha-ha, histrionic history) tone and limp resonance to exacerbate pure slowness that's all too common among Ridley Scott's "efforts", the film drags, with many a point in exposition feeling as though it's going nowhere. Of course, when the film does go somewhere, outside of plenty of absurdly gratuitous ultraviolence most films of this type are typically smart enough to avoid, the destination is almost, if not decidedly always one that we've seen before, as the film, on top of falling into the conventions of slowness found in too many films of its type, this film collapses into countless story and even stylistic conventions, making it painfully generic and simply much more same-old-same-old than unique. I guess you could say that this film is to its type what Leif Ericson was to the Americas, in that this new visit has a fresh coat of paint, but it's still very much been-there-done-that, only unlike Christopher Columbus' voyage to the Americas, this visit is most certainly not any bigger of a deal, ultimately coming out as tragically forgettable and as further testament to Ridley Scott's awesome ability at squandering potential. However, for the time you are within the film, through all of the rocky waters and seemingly endless periods, it comes out as more enjoyable than not, and while the film won't impress terribly, it will get you by, particularly if you're looking for style. If nothing else is notable about the film, then it's its production designs, which are admittedly not terribly notable, yet remain elaborate, slick and immersively authentic-feeling, with Adrian Biddle's handsome cinematography making the production all the more attractive. As for Vangelis' score, it's usually conventional, with some unique touches that come off as kind of strange, yet on the whole, it boasts sweep and dynamicity in both sound and tone. That's good, because if Ridley Scott is going to bear us down with the score so unrelentingly to the point of tainting the film's steam, then we may as well like the music and have it fit the film in some way. Actually, as much I hammer down on Ridley Scott as a director, he is with good tastes, and while his own efforts aren't quite competent enough for the final product to live up to those tastes, there is a certain charm about Scott's visions and workmanlike efforts. I'm sure that he'd like to be respected as more than just incompetent to the point of being kind of charming, yet the fact of the matter is that, if nothing else, the film charms, whether it be because of Scott's tastes or the skills of his performers. True, there's no truly upstanding performance among the cast, but from the distinctive secondaries to the charismatic lead of Gérard Depardieu, the performers give the film a human touch that helps in pulling it through thick and thin. Yes, at the end of the day, potential still goes squandered and the film does not leave a thorough enough impression to stick with the audience, yet with style and charm, spawned from a fine production and charismatic atmosphere, the film stands as ultimately worth the sit. Overall, Ridley Scott's typically overbearing histrionic tone intensifies the sting of dullness and unrelenting genericism, leaving the film tagically dry, underwhelming and hardly memorable, yet through handsome style and lively production to compliment charm spawned from a haul of charismatic performances - headed by the winning Gérard Depardieu - and Scott's ambition, however overbearing it may be here and there, "1492: Conquest of Paradise" lands in familiar territory, but goes comfortably anchored by general enjoyment value, through all of its missteps. 2.5/5 - Fair
Cameron Johnson
Super Reviewer
1492: Conquest of Paradise Quotes
There are no approved quotes yet for this movie.