1408
(2007)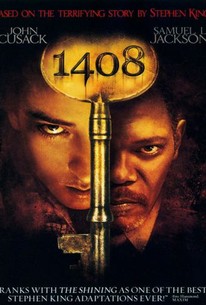 TOMATOMETER
AUDIENCE SCORE
Critic Consensus: Relying on psychological tension rather than overt violence and gore, 1408 is a genuinely creepy thriller with a strong lead performance by John Cusack.
Movie Info
Renowned horror novelist Mike Enslin believes only in what he can see with his own two eyes. But after a string of bestsellers discrediting paranormal events in the most infamous haunted houses and graveyards around the world, he has no real proof of life...afterlife. But Enslin's phantom-free run of long and lonely nights is about to change forever when he checks into suite 1408 of the notorious Dolphin Hotel for his latest project, "Ten Nights in Haunted Hotel Rooms." Defying the warnings of the hotel manager, the author is the first person in years to stay in the reputedly haunted room. Another bestseller may be imminent, but first he must go from skeptic to true believer--and ultimately survive the night.
News & Interviews for 1408
Audience Reviews for 1408
½
This could have been a smart psychological horror but instead feels sterile and pointless, missing the chance to explore the possibilities of its premise and the character's issues. Besides, it becomes repetitive after some time, even though John Cusack compensates with a strong performance.
Carlos Magalhães
Super Reviewer
½
This exciting film based on the terrifying story by Stephen King contains chills , thrills , suspense , and supernatural situations . The picture succeeds because the thriller , tension , suspense , as well as a superbly written script delving into the human psyche in such extreme situation and ours instinctive urges for survival . The screenplay manages to be intelligent , intriguing and thrilling , the good thing about this film is that the director made it on an acceptable budget only having to do a few sets , yet the movie works on many levels but is constantly reconfigured . Extraordinary performance from John Cusack in his second appearance in a Stephen King film adaptation , the first was Stand by Me. The picture bears certain relation with ¨The Shining¨ both movies were also shot at the same studio - Elstree, in London . The story this film was based on was almost never written ,Stephen King originally created the first few pages of '1408' for his nonfiction book, "On Writing," as an example of how to revise a first draft. The story, however, intrigued him, and he wound up not only finishing a complete draft, but adapting it for an audio-book compilation of short stories. Colorful and evocative cinematography by magnificent cameraman Benoît Delhomme . Thrilling and suspenseful musical score by Gabriel Yared who had formerly won an Academy Award for Anthony Minghella's The English patient . The motion picture was compellingly directed by Mikael Hafstrom , an expert on terror and sinister atmospheres as proved in ¨Drowning ghost¨, ¨Evil ¨, ¨The rite¨ , and of course ¨1408¨, he's now filming ¨The Tomb¨. Rating : Good , above average . The picture will appeal to Terror buffs and Joan Cusack fans .This is without a doubt a thought-provoking and mysterious film to be liked for terror fans , turning out to be one of the most original horror movies of the last years . 3 1/2 Stars 11-6-07 (Updated)
Bruce Bruce
Super Reviewer
[img]http://images.rottentomatoes.com/images/user/icons/icon14.gif[/img]
Directors Cat
Super Reviewer
1408 Quotes
There are no approved quotes yet for this movie.