13th
(2016)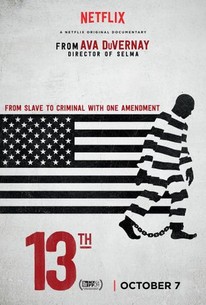 TOMATOMETER
AUDIENCE SCORE
Critic Consensus: 13th strikes at the heart of America's tangled racial history, offering observations as incendiary as they are calmly controlled.
Movie Info
The title of Ava DuVernay's extraordinary and galvanizing documentary refers to the 13th Amendment to the Constitution, which reads "Neither slavery nor involuntary servitude, except as a punishment for crime whereof the party shall have been duly convicted, shall exist within the United States." The progression from that second qualifying clause to the horrors of mass criminalization and the sprawling American prison industry is laid out by DuVernay with bracing lucidity. With a potent mixture of archival footage and testimony from a dazzling array of activists, politicians, historians, and formerly incarcerated women and men, DuVernay creates a work of grand historical synthesis.
News & Interviews for 13th
Audience Reviews for 13th
½
Extremely compelling! This historical, political documentary by Ava DuVernay dives deep into the American prison system and racial inequality. The interview subjects all speak intelligently about various aspects of this history and culture that has brought all of us to this point in time. The graphics, animation, and archival materials are well chosen and placed so we are not left staring at one talking head after another. I'm happy it received an Oscar nomination for Best Documentary.
Byron Brubaker
Super Reviewer
I'm very particular about the documentaries I watch, due to the fact that there are so many out there and so little time. When I first heard about Ava DuVernay writing and directing this documentary, I was immediately intrigued. Her work on the film Selma blew me away and I was looking forward to her next project. When I saw that it had been nominated for best documentary feature at the Oscars my interest increased even more so. To my surprise, not only is this film a great documentary, but it may just be one of the best documentaries I have ever seen. The message given throughout this film is extremely with the times and needs to be seen by anyone do disagrees with just about anything in today's politics. Here is why this is one of the most essential viewings of the 2017 Oscar nominees. Diving pretty deep into the prison system from the 1960s to today, 13th explores the horrors of racial equality around America, and how it really hasn't changed as of today. If anything, it has become more of a problem than ever, and my jaw was on the floor in the final few moments of this film. A documentaries job is to convey a message in a reasonably respectable manor, even if there is no way it will please every viewer. I do feel that anyone who enjoys any aspect in politics will find something to love about this film. The big moment that this film delivers before cutting to the credits is extremely eye-opening and warrants a viewing in and of itself. 13th is more powerful than most films of its kind. The main thing that liked about this film (which was also a very difficult pill to swallow) was how it chose to show actual footage of the crimes committed around the world in the past and how it hasn't changed very much nowadays. They held nothing back in showcasing that our world is still just as corrupt as ever and we just choose to ignore it, making it seem better. Usually just scraping the surface of the issues going on around in the world today, documentaries usually hold back certain aspects, but 13th really goes for it. As mentioned above, this film is a real eye-opener and a rude awakening for anyone who has been blinded by certain things like most of the population has. Each and every person interviewed throughout the course of this film seems to be 100% invested in the topics at hand, making the message reveal itself in a much stronger way that what had already been written with care by Ava DuVernay. Even the placement of certain interviewees in each frame was clearly done on purpose, making the film itself segregated in certain areas. I found this incredibly compelling and it only added even more to the story. Every time someone appeared on-screen, I was engaged even before they began speaking, because I wanted to uncover more answers from the past. Like almost every documentary I have ever seen, it's very hard to give them a perfect score, due to the fact that they are always one-sided. Yes, there is supposed to be a specific message being conveyed and it should never stray from the message it wants the viewers to be exposed to, but certain things should be left up to the interpretation of its audience. That being said, 13th isn't the type of film that needs to leave certain things to interpretation, which does mean that this will be the first documentary I have ever given a perfect score to. I was compelled from start to finish. Whether it was through the visuals, the musical elements used to segue between topics, or the cutting between interviews and real footage, this is one of the most engaging documentaries I have ever seen. If you haven't heard about this film, I highly recommend giving it a look, because it may just be the reality check that you need.
½
13th may not be the most watched film of the year, but it's certainly one of the most important. Coming off of Selma, Ava DuVernay directs yet another socially and politically relevant film (this time a documentary) relating to black history. 13th tackles the largely unjust prison system in America, and does so brilliantly. Having done feature films already, it's no wonder that 13th feels like it has a higher production value and a wider narrative scope than most documentaries. Everything from the production designs of the interviews to the way she implemented music and other variations of art into the film give it a more relatable quality. Sometimes it's not necessarily the message that is given more so than the way it is said that makes it most effective. 13th doesn't always tackle just the prison system head on. Instead, it covers nearly one-hundred years worth of material as to why The United States' prison population has skyrocketed, and continues to do so. DuVernay suggests the likes of D.W. Griffith, the War on Drugs, and other political failures have contributed poorly to the rise of the prison population. Based on the facts, she's not all that wrong. The problem dates back a long time, and unless we take significant steps to change, it won't go away anytime soon. One of the things I hope for out of a documentary is to not just keep my attention throughout, but also to inform me about a topic that I wasn't overly familiar with. 13th tells the history of the unjust prison system in great detail and it notified me of several facts that I was completely unaware of. DuVernay didn't force any information down my throat either. Sometimes films based on divisive subjects have a tendency to do that, but 13th stayed grounded in realism and simply did a rundown of the history. So in that regard, this film did more than its job. +Covers a ton of ground pretty seamlessly +Production design & artistic flare +Effective 9.0/10
Thomas Drufke
Super Reviewer
13th Quotes
There are no approved quotes yet for this movie.