13
(2011)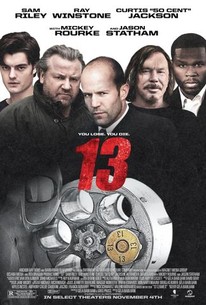 Movie Info
Vince Ferro is a man in desperate circumstances. While on a quick fix-it job, he steals an envelope containing instructions for a mysterious job that promises a potential fortune. He assumes a false identity and follows the instructions, only to find himself a numbered participant in an underworld Russian roulette competition, where gamblers place bets on who'll survive when the trigger is pulled. The stakes are high, but the payout is more than he can resist. Many are competing for the first time, and a precious few have even returned to play again, but are his odds any better than other players in this most deadly game? What will it take to be the last man standing? -- (C) Anchor Bay
Audience Reviews for 13
A sharp, stylish, edgy and tension-charged thriller. It's a thrilling, nail-biting and exceptionally performed and well-crafted film. Director, Gela Bablunai takes his classic original film and gives it a new life and darkness to explore for a new audience. A story with intense choices, compelling characters and brutally explosive consequences that chill you to the bone. A chilling and suspenseful movie that's gut-wrenching, cripplingly disturbing and eye-opening, strong and riveting movie. It packs a full-clip of intensity and has the impact of a hot slug from a gun. An outstanding cast of actors who do a great job with their supporting roles. Sam Riley gives an excellent performance, making a wonderful lead character. Ray Winstone is brilliant. Mickey Rourke is fantastic Rourke and Winstone add some empathy to their characters due to their harsh surroundings and brutal nature that surrounds them. Jason Statham is terrific, he brings a great mystery to his character as well as greed and brief emotional regret.
½
3 3/4's for me. This movie really had my heart racing. A little rough around the edges. Definitely Independent film style. Definitely suspenseful. My husband thought that this was a strange movie..I found it intriguing, and a bit shocking, at times. Plenty of familiar faces were invlolved in this project...
Cynthia S.
Super Reviewer
½
Very good movie, impressive! I heard this was a remake, I didn't see the original but this was a very edgy heart-pumping film. The movie keeps you guessing what's gonna happen and even though some actors are not used to there full potential it was good enough. Loved the ending very wicked!!! A naive young man assumes a dead man's identity and finds himself embroiled in an underground world of power, violence, and chance where men gamble behind closed doors on the lives of other men.
13 Quotes
There are no approved quotes yet for this movie.