Children of the Corn
(2009)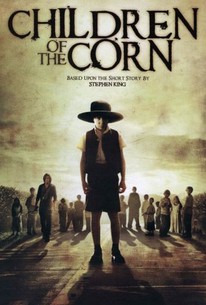 Children of the Corn Photos
Movie Info
A Vietnam veteran and his young wife fall prey to a malevolent rural cult comprised of murderous children in this adaptation of the terrifying short story by literary horror icon Stephen King. The year is 1975: Burt (David Anders) and his wife Vicki (Kandyse McClure) are on a cross-country trip when they stumble into Gatlin, Nebraska. Unbeknownst to them, this idyllic farming community has been overtaken by an unspeakable evil. Under the wicked influence of adolescent evangelist Isaac and his sickle-wielding henchman Malachi, the children of Gatlin have sacrificed every adult in town to He Who Walks Behind the Rows. Now it's Burt and Vicki's turn.
Critic Reviews for Children of the Corn
Audience Reviews for Children of the Corn
½
Delivering a new vision of Stephen King's short story, Children of the Corn is a chilling and horrific tale that's much darker than the '84 original. When a bickering married couple run over a child in the middle of the road, but find that his throat was slit, they find themselves drawn into a devil's trap with no way out. David Anders and Kandyse McClure lead the cast, and Anders gives an especially compelling and provocative performance as a Vietnam vet haunted by his past. McClure, on the other hand, plays a pretty spiteful and reprehensible character, which makes her presence rather grading and a detriment to the film. Still, the directing is pretty good and brings a lot of suspense and tense to the scenes. Though truer to the source matter, this adaptation of Children of the Corn has a cynical tone that sucks some of the entertainment out of it.
Dann Michalski
Super Reviewer
½
I've liked Stephen King's Children of The Corn series since I was a kid and I was very interested when I heard that they were remaking them. The new version is different, but that's not always a good thing. It's definitely a lot more gory and frightening, which is a good thing, but they cut a lot out of the story which was a bad thing. We aren't given any background information, characters are missing, and Isaac is so little and cute, that he isn't believable. On top of that, instead of a loving middle aged couple, we get a fighting interracial couple, in 1975, that features a Marine with PTSD and a prom queen who won't shut the fuck up! I'm glad it was a little creepier and bloodier than the original, but they cut out some of the best parts and give absolutely no background information. I felt like I was jumping into a movie after missing the first half hour, besides that, the acting was so-so, and overall the film was okay at best. In my opinion this film does not live up to the original and would have trouble rivaling some of the sequels as well.
Todd Smith
Super Reviewer
This SyFy remake of the classic Stephen King tale fails to reach its goal with very cheesy yet boring scenes with not so brilliant acting.
Jacob Palacio
Super Reviewer
Children of the Corn Quotes
There are no approved quotes yet for this movie.