Home Movie
(2008)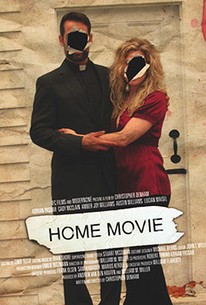 AUDIENCE SCORE
Critic Consensus: No consensus yet.
Movie Info
Upon realizing that their two young children are inherently evil, a pair of desperate suburban parents resign themselves to the fact that all they can do is document the youngsters' cruelty on camera for all the world to see. A first-person shocker shot in the pseudo-documentary style of The Blair Witch Project and Diary of the Dead, Home Movie tells the chilling story of the Poe family, a middle class, suburban clan living in upstate New York. Clare Poe (Cady McClain) is a psychiatrist, and her husband David (Adrian Pasdar) is a Lutheran minister. Clare recently purchased a video camera to document her sessions, but when children Jack and Emily (real-life brother and sister Austin and Amber Williams) begin displaying some seriously disturbing behavior, the concerned mother can't resist the temptation to make some home movies. At first the footage seems fairly benign, but then young Jack hurls a rock at his father's face. Later, after Emily interrupts a tender moment by slaughtering a frog, a conversation between the parents reveals that the children have always been violent, and their anti-social behavior is getting worse by the day. When religion and medicine fail, the situation turns critical, prompting Clare to try some home counseling with her children as the patients. But it's already too late for Jack and Emily, and now the most that Clare and David can hope to accomplish is to document every moment of the madness so others can understand the true extent of their suffering. ~ Jason Buchanan, Rovi
Critic Reviews for Home Movie
Audience Reviews for Home Movie
The scariest horror movies are the ones that feature a story that can actually happen, and what's more terrifying than psychotic children? Like adults, kids can absolutely be crazed killers, and if they were, you'd never suspect it or see it coming. Even if you did, what could be done about a child under 12 whose obsessed with murder? This is a theme explored in the film Home Movie, which had all the makings of a classic and all the talent of a middle school play. I was disappointed right from the start, as this is yet another camcorder film. I understand they are the result of a small budget, but I hate these types of films, simply because it's nearly impossible to watch them without getting nauseous from the constant movement. The story isn't much better, as the film turns out to be nothing more than an experiment. Clare (Cady McClain) is a child psychologist, who just happens to have two psychotic children. Instead of getting them the help they need, she decides to observe them through a cameras lenses and record the findings for a purpose that is never known. Most of the time, the kids are quiet, angry, and bored, but occasionally they find something horrific that peaks their interest, and mom just lets them do it and films it for our benefit. This film is beyond slow, the story is absolutely pointless, and the parents, not to mention the actors portraying them are beyond stupid. Anyone who would read a script like this and agree to do a film like this must be hard up for work, because it was an absolute stinker!
Todd Smith
Super Reviewer
½
Quite possibly one of the scariest "found footage" films I've ever seen.
Jacob Palacio
Super Reviewer
½
It was really hard to get this horror film, recommended to me by RT friend. I thought to give it a go and watch this directorial debut of actor Christopher Denham because it already received favourable reviews at Montreal's 2008 Fantasia Film Festival. I was told that is a documentary, and the first disappointment was that has nothing to do with that genre. Really bad actors Adrian Pasdar (I am not sure if that word "actor" could be in any way connected to this individual), Cady McClain, Amber Joy Williams and Austin Williams were doing everything they know (and that wasn't much), to convince the audience that this happening on screen is real... if I was heavily mentally challenged, half blind and deaf maybe they would succeed! My wife started watching the movie with me, and after 10 minutes just left to read a book. I usually want to finish every movie I start... and I regreted that decision an hour later. This so called "compilation of the Poe family's home-made video footage" is so bad that even a teenager with three days camera training could do better job. I really question the Montreal's Film Festival credentials after giving a positive review to this "work of (try to be) art". The director didn't managed to establish any connection with any of us watching this "mocumentary horror" and even if it was "disturbing" for the friend who recommended it, I had no feel of anything, except the boredom!
Home Movie Quotes
There are no approved quotes yet for this movie.