American Virgin
(2009)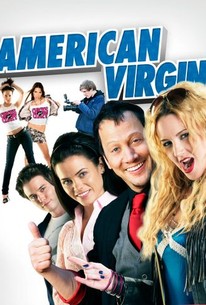 AUDIENCE SCORE
Critic Consensus: No consensus yet.
Movie Info
A prudish college freshman finds her prim and proper reputation compromised after she's plied with alcohol by a deceptive classmate and caught baring it all for the popular video series "Chicks Go Crazy." Priscilla White (Jenna Dewan) is a college freshman on an abstinence scholarship. She'd never dream of giving up her virginity before marriage, but when local legend Natalie "The Naz" (Brianne Davis) tricks her into drinking alcohol, Prescilla's inhibitions fly out the window. After exposing herself for the "Girls Go Crazy" cameras, Prescilla realizes she risks losing it all for her one moment of bad judgment, and races to recover the tapes from sleazy producer Ed Kurtzman (Rob Schneider). Catching up with the "Girls Go Crazy" bus won't be easy, but with a little help from The Naz and handsome traveling companion Chuck, it's sure to be a trip Prescilla never forget.
Critic Reviews for American Virgin
There are no critic reviews yet for American Virgin. Keep checking Rotten Tomatoes for updates!
Audience Reviews for American Virgin
Another American Pie, Road trip wannabe film. This seemed to be being churned out by the dozen at the moment. It's very low budget, bit silly and not very funny storyline aimed at the Girls gone wild franchise.
Totally mind-bottling. i cant think of anything to say about this, its just not possible to review. this is not a movie, although you can watch it on comedy central so you might be fooled into thinking it is. A "goth" chick is seen smoking a joint so fat, its just like, wow. this girl has rolled up a vibrator and is somehow smoking it. i think i had a fever when i watched this, which was last night, which was christmas. i never thought the human body and mind could feel so simultaneously sick. american virgin makes american pie 7 look like fight club 2. and i haven't seen fight club 2. i just KNOW this. watch santa claus rape your neighbors kids in their sleep so you will feel better about having watched this.
Coxxie Mild Sauce
Super Reviewer
American Virgin is the story of a college freshman (Jenna Dewan) who walks to the tune of a higher moral code. Her chastity is her personality- it's her life. Which means in the course of this film she will get drunk, use illicit narcotics, and explore carnal knowledge. It's the gold standard in a movie like this. Throw in the polar opposite roommate and it's all good. Now instead of trashing this film by comparing it to a substance that comes from a buttocks, I'm going to address an issue I had with this movie. Let's be honest- you know it sucks and you don't need me to tell you that fact. I'm going to talk about the only person in this movie I have ever heard of- Rob Schneider. Rob, you were in Deuce Bigelow: European Gigolo. You were in The Hot Chick. You're Adam Sandler's bitch! Of course direct to video garbage is exactly where this guys career has been going for ages. Is this really a surprise? No, didn't think so. So if you're interested in a film where the best acting is from a rubber phallic item you can buy in any discreet downtown "video" store, then this is the film for you.
Chris Garman
Super Reviewer
American Virgin Quotes
There are no approved quotes yet for this movie.