Passing Strange
(2009)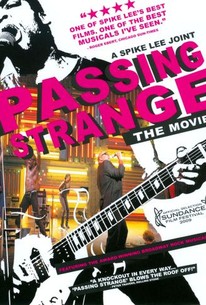 TOMATOMETER
AUDIENCE SCORE
Critic Consensus: Spike Lee's document of the Tony Award-winning musical Passing Strange is every bit as compelling onscreen as it was on stage.
Movie Info
In this astounding and explosive documentary, Spike Lee captures the eponymous Broadway musical show written by singer/songwriter Stew. The resulting work unites revelatory theater with superb filmmaking, raising the whole to a dizzyingly plateau of emotional engagement. The story (developed at the Sundance Theatre Lab) concerns the uneasy relationship of a young black man (called simply Youth in the show's credits) with his life. Raised somewhere south of Interstate 10 in Los Angeles, our hero, a would-be songwriter, stews in a sea of conflicted cultural signals. He chafes under his mother's fixation on family ties and church and her bourgeois aspirations. So he sets out on his own-like pioneers Josephine Baker and James Baldwin-to Europe, seeking something "real." Picaresque misadventures with sex, drugs, politics, and art await Youth in far-out Amsterdam and hypermilitant Berlin. His eyes are opened ever wider, even revealing what he left behind. An absolutely superb cast, ably supported by sparing (but pitch-perfect) costumes, design, and stagecraft, bring to life the emotionally charged story with its astounding original music, narrated and overseen by Stew himself. Lee's multicamera coverage of the event (including backstage scenes) involves the audience in not only the text but the electricity of the ensemble's onstage adventure. It's a tour-de-force of creative collaboration and inspiration.
News & Interviews for Passing Strange
Critic Reviews for Passing Strange
Audience Reviews for Passing Strange
½
In 1976, a young man(Daniel Breaker) is sleeping in on a Sunday morning in South Central Los Angeles. His mother(Eisa Davis) has other plans for him including church to which she drags him. While there, he has a religious experience but not the one she was hoping for. The message is musical, as the young man falls under the spell of Mr. Franklin(Colman Domingo), the son of the pastor. That leads to him being in a punk rock band with Sherry(Rebecca Naomi Jones) and Terry(Chad Goodridge). This is a film of the last performance of the musical "Passing Strange" at the Belasco Theatre on July 20, 2008. As such, one could argue its cinematic merits and its Broadway origins and cliches.(So many poseurs, so little time.) But what is undeniable is how entertaining the movie is, mixing genres and types of music freely. What resonated with me the most is something the narrator(Stew, who also wrote the book and co-wrote the music) said while speaking from either a podium(read into whatever symbolism you like) or sitting at a desk in that we make the biggest decisions of our life while we are teenagers, which could involve college, work or to leave home for the first time. Like the young man in the play, I thought it an easy decision but only deceptively so since I had no idea of what kind of person I would turn out to be.
½
Flashy filmed performance of a Broadway stage play. Set in the late 1970s, a young black musician rebels against his church-going, middle-class, South Central roots by traveling the world in an effort to experience something "real" in life. Los Angeles performance artist Stew narrates what is essentially a concert trip through a dizzying number of musical styles that touch upon gospel, punk, blues, jazz, and rock. The ubiquitous score is excellent, but it's surrounded by an incredibly stagy artifice with a noticeable lack of sets, that feels overly avant-garde. We're constantly reminded that this is a filmed play. Even the acting is affected and unnatural. The passion felt by those who were in attendance in that theater is not the same emotion felt as a viewer watching it on a screen. Brilliantly catchy songs include: "Love Like That", "Amsterdam" and "We Just Had Sex".
Mark Hobin
Super Reviewer
½
Now this was most excellent. Very entertaining musical with great performances and interesting format. Stew is highly entertaining, and Spike Lee does a great job of capturing the live performance vibe with a good blend of camera angles and shots.
Passing Strange Quotes
There are no approved quotes yet for this movie.