Hurt
(2009)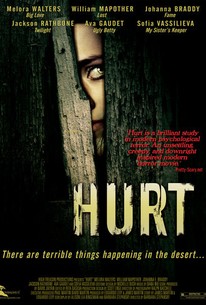 AUDIENCE SCORE
Critic Consensus: No consensus yet.
Movie Info
A grieving family contends with a growing sense of dread after moving to the desert and experiencing a series of tragic, inexplicable accidents. When Robert Coltrane died suddenly, the life his family once knew was forever changed. In an effort to regain some sense of normalcy, his widow Helen (Melora Walters) takes their teenage children Conrad (Jackson Rathbone) and Lenore (Johanna E. Braddy) to live with their reclusive uncle Darryl (William Mapother) in Arizona. But life around William's house is far from normal; not only is the seldom seen uncle something of a gun fanatic, but just as the family is settling in they receive a most unusual visitor. It seems that before Robert died, he agreed to take in Sarah (Sofia Vassilieva), a lovely yet troubled young girl from a particularly unstable background. Shortly after Sarah's arrival, the Coltrane's are plagued by a series of macabre occurrences that seem to have no reasonable explanation.
Critic Reviews for Hurt
There are no critic reviews yet for Hurt. Keep checking Rotten Tomatoes for updates!
Audience Reviews for Hurt
½
No idea how to start off this review. There's no real strong angle to start on. Last couple of reviews, I've started off with a little tangent before slowly transitioning to the actual review of the film. But there's nothing here that I can talk about prior to the review. Oh well. In all honesty, this was a surprisingly decent movie. And, I've said this many, many times, I don't go in expecting a movie to be shit. But I've seen enough movies, from VHS, DVD, VOD and streaming sites to know that sometimes, you have to go in with lowered expectations. Especially when it comes to low-budget horror movies. While I wouldn't say that this was a good movie, I'm certainly surprised at how good some of its aspects were. Most of those were, obviously, related to the acting. There are no Oscar winners here, duh, but the acting is really quite strong all things considered. Pretty much everyone did a good job in their roles. They may not have been the strongest or deepest of characters, but the cast was more than good enough to help make up for some of its more lackluster technical aspects or the best of scripts. I think part of the problem is the narrative, while good at creating a family dynamic where they're all struggling to adjust to their new situation, just doesn't work as well as it could when it tries to be a 'horror' movie ala The Good Son. And it's not even that it's a horror movie, per se. But strange occurrences start to happen once they take in Sarah, a girl from a foster home. They take in this girl, who's been placed in foster care ever since her mother and father both died in a car crash, and then strange shit starts to happen. The 'kids', who are at least in their late teens at least, assume that it is their uncle, whose ranch they moved to after their father died, as he must not be happy with the living arrangements. Not to mention the fact of having to take in ANOTHER kid in such a, relatively, small house. Of course, it turns out to not be the uncle at all and all the shit that happens is caused by the girl they take in, Sarah. Surprise surprise. I bet you didn't see that coming. I guess I sort of spoiled it myself by using The Good Son as an example. But, still, you would have figured it out eventually. Particularly the big twist where it is found out that, in fact, Sarah was Lenore and Conrad's half-sister. This part of the film has some weak points, to me. I guess you could chalk it up to Sarah being absolutely irrational, but she acts as if Conrad, Lenore and Helen are the 'other' family. Sarah is, like, 13 or 14 here. So, realistically speaking, she was part of the 'other' family. And I don't mean that to denigrate her existence or anything of the sort, she's worthy of having love from her father, but her reasoning is faulty and the fact that no one in the family cared to point that out is a little weird. Again, you can point out that Sarah, who was in the car crash that killed her mother and father, the mother wanted to kill him, wasn't the most rational of people to begin with. She's got mental scars from the accident. Scars that clearly have not fully healed yet. So, now that I look back at it, it really wasn't much of a problem. I guess it's the fact that it's just such a predictable "twist", if it can even be called that. You know right from the start that Sarah is the one responsible. They never seriously entertain the idea of it being the uncle, who has the hots for his brother's widow, just wanting her kids out of the equation so he could be with her. I don't know, at least play with that concept a bit. Don't make it so obvious from the very start as to who the villain is. It makes the movie a little difficult to get into because of it. There's just no surprise. Predictability is never an issue when the rest of the film picks up that slack. Through casting or scripting, it has to make up for that. And this movie, while it has a really good cast, doesn't make up for it. Which is why I can't give it a good rating, despite the fact of it being better than I could have possibly expected. I wouldn't exactly recommend it, but if you've got a few hours to kill, this will do just fine, even if it's not a good movie.
Jesse Ortega
Super Reviewer
½
Ariel from Medium a psycho murderer? It's a little bit of a stretch to say the least, but the movie actually wasn't terrible. What was terrible was whoever played the mom...the whole movie sounded like she was reading the ingredients on a cereal box.
Sarah Prisbylla
Super Reviewer
The same concept as "The Bad Seed", and "The Good Son", so nothing really new here. The acting is alright, but the pacing is so slow it's like watching paint dry. The creepy brother-in-law is a red herring intended to add some tension to the film, but in the end he ends up being a wack job himself...none of which makes much sense, or difference to the story. To make matters worse, the creepy foster child isn't that scary. Instead, she is just a little sad.
Cynthia S.
Super Reviewer
Hurt Quotes
There are no approved quotes yet for this movie.