Exit Speed
(2008)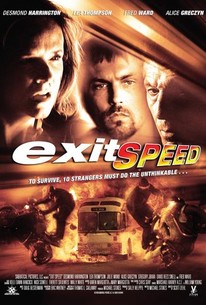 AUDIENCE SCORE
Critic Consensus: No consensus yet.
Movie Info
It's Christmas Eve and ten people board a bus travelling across Texas. Marathon runner Maudie McMinn (Lea Thompson), High School soccer coach Jerry (Gregory Jbara) and Corporal Merideth Cole (Julie Mond) are among those heading home to visit family and friends, some in search of new jobs and some just looking for a fresh start. On a deserted section of highway, the bus collides with a nomadic biker wired on crystal meth. But when the passengers go to his aid, he opens fire on the bus and in terrified self-defense they retaliate and kill the crazed gunman. With the murder being witnessed by the rest of his biker gang, the bus is ambushed and forced off the road. The passengers take refuge in an abandoned wrecking yard and watching in horror, they soon find themselves surrounded by the ferocious pack of knife and gun wielding lunatics. -- (C) 2020 Films
Critic Reviews for Exit Speed
There are no critic reviews yet for Exit Speed. Keep checking Rotten Tomatoes for updates!
Audience Reviews for Exit Speed
Considering that this is an independent production, Exit Speed is a surprising film. Though not excellent by any means, Exit Speed is a terrific accomplishment with a surprising good cast of actors. It's clear that Exit Speed take it's influence from the Mad Max and first Speed films, but it's a film that fairly well done, despite the fact that is a strong influence of those films. Theres plenty of good things going on in the film to keep you interested. Though the plot is not too original, theres nonetheless a good story displayed here. The cast of actors of well known actors are Fred Ward from Tremors series, Lea Thompson from Back To The Future and Red Dawn and Desmond Harrington from tv's Dexter. After a bus collides with a meth addicted biker, a meth addicted biker gang seeks out revenge on the group of passengers traveling on the bus. What follows is an action packed thrill ride. Exit Speed is clearly a B movie, but is very well made considering that. The film does have a good, simple story, and it has decent enough acting. Nothing too special, but nothing awful either. Exit Speed is a surprising film because, honestly, I did not expect anything good out of this film, but I finished it and I was very impressed with. Sure there are things that could have been improved upon. But considering that this film was made by an independent studio and small time director; you have to give this film credit in delivering something interesting on screen.. Really the ony thing that they could've changed was the soundtrack, which totally sucked. The films soundtrack sounded like it was made using a Casio keyboard. The films simple story of passengers fighting against a ruthless biker gang is pretty effective and shows that you don't need anything elaborate to create pulse pounding action.
This is by far the best 1 star movie I've ever seen. Maybe I shouldn't say best because it would imply there's something positive about the entire experience or that I learned something, but it's probably the most fun I've had watching a bad movie in a while. I gave this movie the same score I gave the ABHORRENT Frankenstein (1994 version) and technically that movie was better since it had a better budget, better cast (I would say it was better shot but that movie was pretty poorly filmed) but it also pretended to be a better movie than it actually was and therefore it failed on almost EVERY level possible. To use a metaphor, and a very poor one at that, this movie should have been aborted at a movie abortion clinic. Taking a look at the plot synopsis for this film, you can't help but laugh at the absurdity of it. Therefore, since this wasn't meant to be taken seriously, I could just relax, enjoy and laugh at the unintentional comedy. This movie doesn't pretend to be something it's not (like Frankenstein 1994) so it takes the edge off and I was never looking for things to criticize about the movie itself. There IS a lot to criticize, but you know what? I'm not going to bother because it would be pointless and in reality I was entertained by the movie and it held my interest for 90 minutes. It's still a bad movie, but it's a good bad movie. It's just a low-budget thriller flick and I can never really hate a low-budget thriller. Another thing, it's very apparent, that Lea Thompson is at a level so far above the rest of the actors in this movie it's not even funny. And Fred Ward is just a cool old man. That's about it, if you like bad movies, then this one is definitely recommended for its unintentional comedy and just plain absurdity of the plot. If you only want to watch good movies, well then you're sucking up the wrong teat here...did I just say that???
Jesse Ortega
Super Reviewer
½
Exit Speed has no big stars and not much production value, but it offers an agreeable enough entertainment adventure. It definitely has that low-budget, made-for-TV vibe. I actually think that this could have been a solid big screen movie with an upgraded cast and a bigger budget. The plot basically pits some everyday bus passengers against a biker gang out in the middle of nowhere. Some familiar character types are here, but there's also some left-field personalities (bow and arrow elven princess!) to keep the movie from being too cliché. It does drag on a bit, but it's extremely satisfying to see all the bikers meet their end at the climax. Watch it, if these kinds of movies are your thing.
Exit Speed Quotes
There are no approved quotes yet for this movie.