Women in Cages
(1971)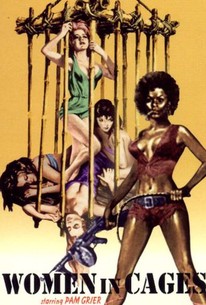 AUDIENCE SCORE
Critic Consensus: No consensus yet.
Movie Info
In this prison melodrama set in a women's reformatory, a sadistic lesbian guard takes great pleasure in tormenting her inmates in the grim confines of "The Playpen." The film is called Women's Penitentiary III on video.
Critic Reviews for Women in Cages
All Critics (3) | Fresh (2) | Rotten (1) | DVD (1)
Any hope for shock is long gone by the time the conclusion arrives. "Women in Cages" makes the grindhouse aesthetic feel like a wet blanket.
Thankfully lives up to its reputation providing pure unadulterated sleaze...
An unsung grindhouse gem -- a despairing film of pitiless integrity that functions as a corrective to the 'Women in Prison' idea that life behind bars is action-packed and titillating.
Audience Reviews for Women in Cages
Superior WIP film, and one of the first to kick off the genre's popularity at the outset of the 1970s. Some unique casting adds interest as Pam Grier plays the sadistic warden while personal favorite Roberta Collins, frequently the sympathetic cellmate, is the conniving junkie with orders to kill the new girl! That new girl is Jeff (Jeff?!?) played by Jennifer Gan whose acting credits are limited, mostly bit parts on TV, and don't extend beyond 1972. And for a very good reason too: she's absolutely terrible! Probably the worst acting I have seen in the genre, and these roles aren't honeypots for the next Charlize Theron. So she's a significant drag factor, but Collins & Grier keep the ship from sinking while showing some boobie among the showerings, stabbings, riotings, plottings, escapings, and torturings on the Wheel Of Misfortune. In all, a gritty guilty pleasure good time.
Doctor Strangeblog
Super Reviewer
Probably the least of the "women in prison" exploitation movies that I've seen thus far, at least in the pseudo-trilogy that it falls into. Women in Cages reunites much of the main cast from The Big Doll House, but unfortunately, things just aren't as much fun as before. This time around, Pam Grier is on the dirty dikey side of the bars while the rest are on the other side trying to get out. The main thing that bothers me about this movie is Jennifer Gan, who is an absolutely awful actress and I can see why she never had a career after this. Her character is baffelling to me all the time, but it's her acting that really brings things down. She doesn't even get nude in the movie, which is a big no-no when it comes to these types of movies. It's part of the titilation and enjoyment that the actresses will be topless at some point. The movie also doesn't really have much to it and there's nothing as exciting or as engaging as the films that came before and after it.
Tim Salmons
Super Reviewer
Women in Cages Quotes
There are no approved quotes yet for this movie.