A Crime
(2006)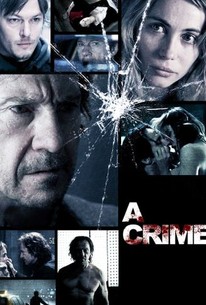 AUDIENCE SCORE
Critic Consensus: No consensus yet.
Movie Info
The devastated life of a man haunted by the unsolved murder of his beloved wife is strangely complicated by the mysterious neighbor who loves him from afar in a dark noir thriller directed by Manuel Pradal and starring Norman Reedus, Emmanuelle Béart and Harvey Keitel. Vincent (Reedus)' wife has suffered a most brutal fate, and these days the once happy New Yorker is but a frozen shell of his former self. Vincent is not a man unloved, however, because although he may currently be unaware of her feelings for him, his neighbor Alice (Béart) knows in her heart that she and Vincent were meant to be together. All that needs to happen to make Vincent recognize her love is for the grieving widower to finally be liberated from his tragic past; and Alice is willing to go to any lengths necessary in order to make this happen. If Vincent was finally to find the man responsible for his wife's death, he could finally be free to open his heart to Alice. When Alice hails a cab driven by lonely New York soul Roger (Keitel), the gears of the scheming woman's elaborate plan are slowly set into motion despite the ignorance of both the naïve cabbie, and the somber object of her delusional affections.
Critic Reviews for A Crime
All Critics (2) | Fresh (0) | Rotten (2) | DVD (1)
Menontas sto etsi einai giati etsi paei, to A Crime basizetai stis kales ermineies, to piasariko thema kai arketi kayti gymni sarka gia na dianysei ti laspodi diadromi toy pros to finale, apeilontas monimos me endehomeno ala Memento (2000) anatropis, alla
Audience Reviews for A Crime
½
Many bad choices in this potentially intriguing story of twisted love and double-cross. You'd think Harvey Keitel would make an ideal NYC cabbie, instead he said to himself "hey, you know, this time I think I'm a-gonna throw in a little aboriginal mysticism into my character 'cos I just saw an article in National Geographic - didn't read the whole thing, but I think I got the gist." At least he settles a longstanding bar bet here by proving that he is the world's worst interpretive dancer. Meanwhile Emmanuelle Beart fluctuates within the space of a scene - she expresses herself in English decently, but extracting a true performance becomes more difficult with a limiting script like this. Her scenes with Keitel are undoubtedly awkward, and that's even before they do the nasty. Then it's like watching the Venus de Milo get used as a coat rack for a tattered leather jacket. The story gets a little kickstart once Beart's true motive is revealed, but quickly squanders that momentum. She has better chemistry with Norman Reedus, and the scenes between them with her silent yearning are the best in the movie - not what a director of a thriller should hope to achieve! Dumb plot points seal its doom, the biggest of which is the driving element: Reedus' obsession with finding his girlfriend's killer, a man who drove a cab with a scratched door and wore a ring and red jacket. You'd have a hard time narrowing your suspects in Little Rock, Arkansas the next day with that profile, let alone 3 years later in the city with more cabbies than Larry King has failed marriages. What a pathetically limp title too, a more accurate one would be D-Minus Crime.
Doctor Strangeblog
Super Reviewer
One of those movies that the director throws hints, but never comes out and confirms anything. What we know is that Alice, who seems a little crazy, picks a NY taxi driver as a likely candidate as the murderer of her neighbour's wife. Alice sets it up that her neighbour sees the cabby in the same outfit he was supposedly wearing when he killed the neighbour's wife. Wait, it gets more complicated than that!
A Crime Quotes
There are no approved quotes yet for this movie.