Life During Wartime
(2010)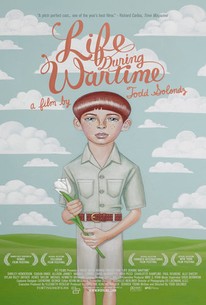 TOMATOMETER
AUDIENCE SCORE
Critic Consensus: With Life During Wartime, Todd Solondz delivers an unexpected semi-sequel to Happiness in typically uncompromising fashion.
Life During Wartime Photos
Movie Info
Directed by Todd Solondz, this ensemble film tells the tale of a large dysfunctional family. Joy (Shirley Henderson) continues to have problems with her husband, Allen (Michael Kenneth Williams), and looks to her family for advice. A dead former boyfriend (Paul Reubens) continues to try to win her heart from the great beyond. Joy's sister, Trish (Allison Janney), meets a retiree whom she hopes will normalize her chaotic life. A third sister, screenwriter Helen (Ally Sheedy), is full of bitterness toward both her family and her career. Their mother, Mona (Renée Taylor), wants absolutely nothing to do with men. And, ex-con Bill (Ciarán Hinds), Trish's former husband, wants to reconcile with their son. Life During Wartime is a pseudo-sequel to Solondz's Happiness with different actors playing the same characters from that earlier film.
News & Interviews for Life During Wartime
Critic Reviews for Life During Wartime
Audience Reviews for Life During Wartime
"People can't help it if they're monsters." Friends, family, and lovers struggle to find love, forgiveness, and meaning in a war-torn world riddled with comedy and pathos.
REVIEW
Director Todd Solondz takes the various dysfunctional characters of his earlier film, "Happiness", recasts them, and places them in "Life During Wartime". This facial reshuffling then becomes an enquiry on Solondz's part: have these people changed? Are major personality or life changes even possible? How contingent is human behaviour? How reversible are past scars? "Happiness" was a jet black comedy which jumped from paedophilia to suicide to masturbation to divorce to murder, deftly hopping from taboo to taboo with a kind of soul crushing cruelty. For Solondz, everything is a masquerade, humans are petty, pathetic and cruel, and every good deed merely masks something horrible at worst, hypocritical at best. With "Wartime" Solondz tries to recapture the cringe comedy and satirical edge of "Happiness", but fails entirely, modern audiences now desensitised to his particular brand of sensationalism. With the taboo shocks out the window, his audience is then free to focus on the film's clunky message: the past scars the future, Solondz says, but all should be forgiven, lest a cycle of animosity, hate, fear and torment be perpetuated. The film then aligns these themes to the events of September the 11th; America as a nation should forgive those who abuse her, as those upon whom pain is inflicted in the film should forgive their tormentors, or themselves if necessary. It's all very reductive, but far from the misanthropy which critics of Solondz often accuse him of spouting. If anything, Solondz's a jaded idealist, his characters all looking for a way out of the rut he keeps digging them deeper into.
Lorenzo von Matterhorn
Super Reviewer
Like most of (no, more like all of) Todd Solondz's work, this film is not for everyone. I am a huge fan of Happiness and Welcome to the Dollhouse and even found a soft spot for Palindromes. I think he is one of the most original writer/director's out there. I like the fact that he makes you uncomfortable and, by doing that, probably makes some of the most human films we have seen. This film is about forgiveness and while it has some missteps (I understand the fact that they are kids, but Dylan Riley Snyder as Timmy was nails on a chalk board bad in some scenes), I still felt something after watching it and that's more than I can say for a lot of things I watch these days.
There are a bunch of great moments and performances in Todd Solondz's "LIFE DURING WARTIME," and some dialogue that ranks with his best, but the film never fully gels as a whole or a standalone. A "sequel" of sorts to the fantastic "Happiness," Solondz's latest feels like it was made so the director himself could revisit and give (some) closure to these characters he obviously has a lot of love for, but he in turn never delivers a narrative that viewers can fully connect with (especially when compared to HAPPINESS; which is immanent). Still, I liked the film. It's completely (disappointingly) tame and it may be kind of forgettable, but the quirky charm and hints of greatness won me over. A mild recommendation.. Despite what you may have heard, watch HAPPINESS first! You'll probably hate this film otherwise. Not knowing who the characters are going in will make portions extremely frustrating.
Life During Wartime Quotes
There are no approved quotes yet for this movie.