Antichrist
(2009)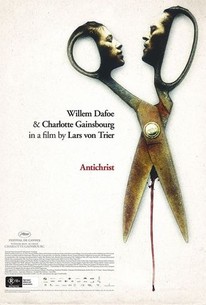 TOMATOMETER
AUDIENCE SCORE
Critic Consensus: Gruesome, explicit and highly controversial; Lars Von Triers arthouse-horror, though beautifully shot, is no easy ride.
Movie Info
A grieving couple retreat to 'Eden', their isolated cabin in the woods, where they hope to repair their broken hearts and troubled marriage. But nature takes its course and things go from bad to worse.
News & Interviews for Antichrist
Critic Reviews for Antichrist
Audience Reviews for Antichrist
A far warning to those who can't deal with anything shocking, horrific, gross, or evil: this is not the film for you. Walk away, tuck yourself in, and go to sleep. This film is a descent into the hellish wasteland that is our inner selves. Lars von Trier creates films with characters that have motivations that are unlike the average human being. Charlotte Gainsbourgh appears in this, her first of three von Trier collaborations, as a grieving mother, who has just lost her infant son. Willem Dafoe is her analyst husband, who tries to comfort his wife by becoming her therapist, and they embark into the woods to work within the sphere of their grief. Von Trier creates stunning imagery, dreamlike logic, and nightmarish action between his two leads, who take up the entire film. I enjoyed the turmoil between this modern day Adam and Eve, as they grieved for their son, but it seemed impossible for them to move on. Dafoe's character (named simply He) tries to make everything right again, but his instincts ring hollow to his wife, who doesn't trust, nor does she believe, in his sage words. The motivation for the last third of the film doesn't meld with the rest of the narrative, except when it comes to She's self-mutilation and punishment. Sex as pleasure versus procreation is also a heavy theme thread throughout, feeding the grief that swells within She. It's a film full of big ideas and big emotions, and while I will never watch this again, thanks to my gag reflex, I thought it said some immensely prophetic things about the human race, and where we have been and where we are going.
Spencer S.
Super Reviewer
Lars Von Trier is a unique filmmaker that has a style that I would describe as eccentric, haunting, yet somewhat beautiful. With Antichrist he crafts a film that is horrifying and unforgettable. The cast here is impeccable and Trier's choices are terrific. Willem Dafoe and actress Charlotte Gainsberg deliver great performances here, and the story itself takes its time to unfold, with steady pacing, which is key in telling an effective story. Antichrist may not be a film for everyone, but those who enjoy Art films; well this is a film worth seeing. Antichrist is a tense, horror film with the art house flair, and Lars Von Trier delivers an unflinching. Raw in your face picture that has a powerful sense of visuals. Trier always seems to go for an unsettling way in telling a story, and he more than accomplishes that with this horror drama. Considering that Antichrist comprises of such a minimal cast of actors, I founds the film to be accomplished piece of cinema. If you have varied taste in cinema, then Antichrist might suit your palette. The content expressed on film is disturbing, and unforgettable, but that's what makes it resonate with the viewer. Antichrist seeks to disturb and succeeds in doing so. The film has its flaws, but as a piece of horror filmmaking it does succeed at capturing genre elements through Trier's camera lens. Overall this is a film that will appeal to genre fans, and it is well executed and quite tense throughout and like I've said before, due to its horrifying visuals, Antichrist is a film that you won't forget.
A valiant, unsurprisingly ballsy and undeniably beautiful attempt by von Trier at creating a horror movie that goes deep into primal human fears than the popular 'jump scare' genre, but he eventually tries to tackle far too much, including religion and gender issues. As a result, the ending of the film is not just disturbing (as it meant to be), but either confused or simply confusing (whether the fault of the filmmaker or the viewer, a film that loses the audience while trying to shock them can't be seen as a complete success).
Sam Barnett
Super Reviewer
Antichrist Quotes
There are no approved quotes yet for this movie.