Autopsy
(2009)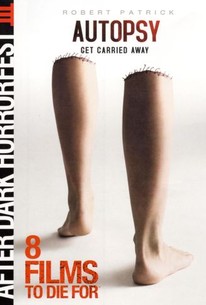 AUDIENCE SCORE
Critic Consensus: No consensus yet.
Movie Info
Horror duo Adam Gierasch and Jace Anderson (The Toolbox Murders, Mother of Tears) re-team for this frightener about a group of road-tripping college graduates who are spirited to a mysterious hospital after crashing their car on a lonely Louisiana road. Emily, her boyfriend Bobby, and their good friends Claire and Jude are driving through the darkened Louisiana countryside when their car spins out of control and crashes into a tree. When the ambulance arrives to take them to Mercy Hospital, the traumatized travelers assume that the worst is behind them. But why are there so few doctors at Mercy Hospital, and why are most of the floors empty? As the mystery of this foreboding hospital grows, the weary travels realize that the horror is only beginning.
Critic Reviews for Autopsy
All Critics (3) | Top Critics (1) | Fresh (3) | Rotten (0) | DVD (1)
Autopsy does little new, but takes us through its teens-in-peril scenario with visual flair and some pleasingly inventive gore.
December 1, 2010

Autopsy is without question one of this year's darkest bright spots at After Dark Horrorfest! Bravo!
A dry set-up and a familiar setting, but its got an admirable devotion to old-fashioned, over-the-top, Fango-friendly gore-gasms.
Audience Reviews for Autopsy
½
Brilliant gore film, Adam Gierasch's Autopsy is a bone chilling nightmare designed to please gore hounds and horror fans looking for something truly original to sink their teeth into. The film is one of the finest horror pictures I've seen in quite some time, and in terms of sheer thrills, Autopsy is a nightmare and is constantly entertaining from the first frame onwards. I thought that this was a film that had a really original concept, one that succeeds at creating something that we've never seen before in the genre. This is a standout horror film that gives genre fans what they want. The cast do a good job in their performances, but Robert Patrick steals the show and gives the finest performance of the film. Gierasch has a clear understanding of what makes a great horror film, and he crafts something here that goes back to what made horror great. Genre fans will definitely enjoy this wild ride and appreciate the traditional horror elements. If you're looking for a very well crafted horror film, check this one out. The film has its flaws, but works well enough to appeal to fans that are tired of remakes and want something much better to watch. This is a perfect film to watch during the Halloween Season. If you're all about the gore and terrific memorable horror, Autopsy won't disappoint. This film exceeded my expectations and it's always great to see upcoming directors make something good in the genre. Autopsy is a highly entertaining thrill ride that is worth checking out by fans. For a low budget horror yarn, Autopsy more that delivers its fair share of shocks.
Corny, but entertaining. This movie is a bloodbath. Try to watch the Unrated version. What a wild movie! Sick and twisted.
jd cryptic
Super Reviewer
½
Ive never seen so much crap in my life!! It just isnt anything that is even worth watching, the storyline is okay but nothing special, the acting at least was good but i think that might have something to do with the names all though not a well recognised cast but you would probably know of them!! Its not what id call a horror as its not scary it doesnt make you jump! It doesnt realy keep you interested as you know what is going to happen as its that predictable!! Not really worth a watch at all!!
Film Crazy
Super Reviewer
Autopsy Quotes
There are no approved quotes yet for this movie.