The Cove
(2009)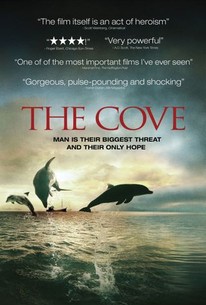 TOMATOMETER
AUDIENCE SCORE
Critic Consensus: Though decidedly one-sided, The Cove is an impeccably crafted, suspenseful expose of the covert slaughter of dolphins in Japan.
Movie Info
In the 1960s, Richard O'Barry enjoyed a lucrative career as a specialized animal trainer; he captured the five dolphins that were used in the popular television series Flipper, and taught them the tricks and special commands they used on the show. Four decades later, O'Barry has renounced his former life as a trainer and become an animal rights activist, speaking out against the hunting of aquatic mammals and keeping them in captivity. O'Barry is not welcome in Taiji, a town along the Japanese coast where hunting dolphins is a major part of the local economy, but he and a group of activist filmmakers made their way into the city as well as the carefully guarded harbor in hopes of documenting the abuse of dolphins by fisherman and the poisoning of the waters that has taken a toll on the marine ecology. O'Barry and his colleagues captured some beautiful underwater footage as well as shocking images of how the town's fisherman have sullied the dolphins and their habitat, and director Louie Psihoyos has used this material as the basis for the documentary The Cove, which received its world premiere at the 2009 Sundance Film Festival. ~ Mark Deming, Rovi
News & Interviews for The Cove
Critic Reviews for The Cove
Audience Reviews for The Cove
½
Both thrilling and devastating, this daring documentary exposes the revolting covert massacre of dolphins in Japan, urging us to act against the horrible things that men do to animals all over the world. Some may even feel that the filmmakers' arguments are not very consistent but no one can deny the importance of what is discussed here.
Carlos Magalhães
Super Reviewer
Eye opening documentary about Dolphin abuse in Taijii, Japan. The Cove exposes an important subject, one that needs to be exposed. Hard to watch, but necessary, The Cove is a must see movie, and it's really one of the most important documentaries in recent memory. The film is quite disturbing, but it confronts an issue that needs to be addressed. Dolphins are smart creatures, and they're not ours to eat, trap and abuse. I viewed the film purely as an unbiased point of view, and I was shocked at what I've seen here. I am an animal lover and this film really showed some of the cruelty against these smart animals. Brilliantly shot, telling a powerful story, The Cove is an intense experience that you won't forget. Some footage is hard to watch, but it is necessary in order to shine light on this subject. A lot of people don't know that this is going on, and it needs to be made aware of because the way they're slaughtered is barbaric. If you're hesitant about seeing the film because of its content, don't. The film though disturbing is a documentary that is important, and really worth seeing because it's a subject that needs to be addressed. I love eating meat and fish; however I do believe that there are some limits when it comes to nature. I believe certain species should not be killed because it's not right and frankly it's barbaric. With that being said, will this documentary make Japanese fishermen stop emptying oceans of fish, I doubt it. However this film has the power to make you ask several questions and eventually maybe they'll sufficient pressure on the Japanese to make them realize what they're doing can eventually hurt the world's fish supply. In regards to Dolphins and other whales, they should be protected by laws as Dolphin meat is not good enough for human consumption due to high levels of mercury. The Cove is a standout picture that will stay with you long after you've seen it.
½
The Cove is a harrowing and haunting documentary on the dolphin slaughter in Japan. Benefiting from explanations of dolphin psychology and lots of footage of them in their natural habitat and hearing stories of the connection with people helped create a personal connection to the animals. Though the documentary is very one-sided, it's very suspenseful, emotional, shocking and disturbing, but also left me wanting more. At only an hour and a half long, The Cove could have taken time to explain more about the mercury poisoning, views from the Japanese side, etc. I wouldn't have minded the longer running time since they got me so involved in the loves of the dolphins. The is an essential documentary for everybody to see nonetheless. It will stay with you long after you have seen it.
Raymond Wieser
Super Reviewer
The Cove Quotes
There are no approved quotes yet for this movie.