Nobel Son
(2008)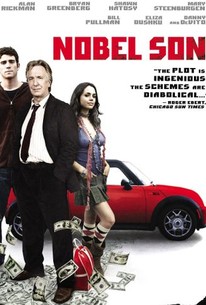 Movie Info
A young man's moment of triumph is spoiled when he gets kidnapped before he can impress his father in this black comedy. Eli Michaelson (Alan Rickman), a well-respected scientist, has learned that he's won the Nobel Prize in chemistry, which is a mixed blessing for his friends and family; while Eli's ego is a bit strong under the best of circumstances, this affirmation of his talent and intelligence has made him insufferable. Eli's wife, Sarah (Mary Steenburgen), a talented forensic psychiatrist, is more than annoyed by Eli's fondness for extramarital affairs (and lack of concern about hiding them), while his son, Barkley (Bryan Greenberg), has spent much of his life struggling to live up to his dad's expectations, with little success. Barkley is about to receive his Ph.D, just in time for his father's prize ceremony, when he's abducted by a pair of hapless crooks. The kidnappers demand Eli's two-million-dollar Nobel honorarium in exchange for Barkley's safe return. Also starring Bill Pullman, Danny DeVito, Eliza Dushku, and Shawn Hatosy, Nobel Son received its world premiere at the 2007 Tribeca Film Festival. ~ Mark Deming, Rovi
News & Interviews for Nobel Son
Critic Reviews for Nobel Son
Audience Reviews for Nobel Son
½
Nobel Son is a well thought black comedy with a great cast and directing. I really enjoyed the film because it offers up a good idea for a movie, and with a fine lead performance from Alan Rickman, who always is best as playing characters that are arrogant. This is a smart film with a great cast, a clever script and great directing. The plot is well structured and it is an entertaining film that is smart and funny, something that is rare to see in comedies because everyone wants the same old tiresome humor. Nobel Son is a film that will certainly appeal to viewers looking for a different type of comedy, and with a cast like this, you can be thoroughly engaged into the story, its characters and what is going on on-screen. This is one of those rare films that succeed at creating something really original and combining it with a well layered plot. I really loved the film, and it is a fine independent production due to Rickman's performance which really stands out. I wish more films like this would get a wider release because in today's comedy genre, nearly every comedy tends to recycle the same dull material, which ends up falling flat. Nobel Son has its imperfections, but it is worth seeing if you enjoy these types of Black comedies. With a great cast at hand, this is a highly entertaining film that combines serious elements with the not so serious to create one of the better films in the genre. This film is really a treat for film fans that enjoy independent productions such as this.
This movie, gets three stars purely for Rickman as he is awesome! Like everything that Alan Rickman is in he also proves to be a phenomenal actor even if the script and plot of the movie isnt up to scratch! Being a huge Alan Rickman fan i absolutely loved this movie, i was wishing that he was my professor that i could have an affair with however that aside the story itself is a bit over-ambitious! Your given a straight forward plot that gives you laughs and enjoyment but then the story goes somewhere completely else and gets a little bit harder to keep up as the plot delves into sub plots and a whole new direction in the last half of the movie! Although its a movie you can understand and follow you are left bewildered as to why they took that direction towards the end, and possibly there could have been a more satisfying ending! Its a good cast Alan Rickman is awesome and i love the American Accent hes putting on it makes him even more sexy! He's great and the supporting cast have their moments but the movie as a whole is a little disappointing. Rickman fans will enjoy this movie though!
Film Crazy
Super Reviewer
"There is more barbarity in eating a man alive than in eating him dead." Barkley Michaelson is in a deep life rut. He's struggling to finish his PhD thesis when his father, the learned Eli Michaelson, wins the Nobel Prize for Chemistry.
REVIEW
This is a perfect indie film with a bizarre script with endless twists and turns, excellent actors in quirky, often off-putting roles, a loud, funky soundtrack, and a pace that's so quick you'll need to see the movie twice to absorb it all. The ensemble cast is headed by Alan Rickman at his sarcastic best, wallowing happily in his role as a heartless husband and father. He's wonderful. Steenburgen's role is never fully explained; why would she stay married to such a beast? Bill Pullman is great as the cop who investigates the kidnapping. He's sympathetic, professional, and ultra-creepy all at the same time. Bryan Greenberg is good as the kidnap victim. Danny de Vito and Ted Danson round out the cast in small parts. The exciting script will keep you guessing and the acting is top-notch. Recommended.
Lorenzo von Matterhorn
Super Reviewer
Nobel Son Quotes
There are no approved quotes yet for this movie.