Patti Smith: Dream of Life
(2008)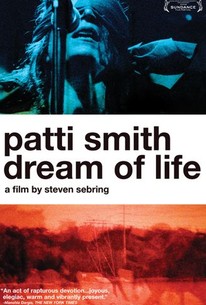 TOMATOMETER
AUDIENCE SCORE
Critic Consensus: Elegiac and personal, Patti Smith: Dream of Life paints an enduring and sometimes rough portrait of the titular chanteuse, complete with footage onstage and at home.
Patti Smith: Dream of Life Photos
Movie Info
This film is an intimate portrait of the poet-musician, Patti Smith.
News & Interviews for Patti Smith: Dream of Life
Critic Reviews for Patti Smith: Dream of Life
Audience Reviews for Patti Smith: Dream of Life
½
Speaking as a long-time Patti Smith fan, I was disappointed with this documentary. She and director Steven Sebring -- who worked on the film for 11 years -- were obviously bent on avoiding the usual format of performance clips and fan/musician testimonies, but their own route can be unbearably heavy-handed and pretentious. For every one endearing, human scene (Patti bantering at her parents' house, warming up voices with her band or discussing awkward urination with Red Hot Chili Peppers bassist Flea), there are five dreary passages of incidental footage mixed with ponderous narration and poetry. Smith is consumed with death -- understandable, considering the long list of friends and lovers she has lost (her husband, her brother, Robert Mapplethorpe, Richard Sohl, Allen Ginsberg, William Burroughs and more) -- but her endless elegies and solemn gravesite visits turn repetitive and verge on self-parody. We gain zero insight into her creative process or history as recording musician, and an attempted acoustic crooning of Dylan's "A Hard Rain's A-Gonna Fall" is an embarrassing reveal of her paltry guitar skills. There is one wholly magical moment, however -- a relaxed, domestic Patti singing to her cat as she lovingly teases it with her hand. This can't be missed. But on the whole, you're better off reading her recent memoir, "Just Kids."
Eric Broome
Super Reviewer
Made over a ten year period, "Patti Smith - Dream of Life" is not a film recommended for newcomers to the work of the artist, activist, poet and accidental rocker. There is just a little biographical information dispensed early on which is not as much as I recall from a Robert Mapplethorpe biography I read some years ago. In this book, some of her friends were worried by her marriage to Fred Smith, move to Detroit and sudden domesticity, cutting her off from many of them. Regardless, she grieves for her dead husband deeply, along with Mapplethorpe who she was close to and modeled for. In fact, the tone of the documentary is somber as Smith looks back on all the people gone from her life, reinforcing my image of her as a designated mourner, especially after the recent death of her friend Jim Carroll. In any case, her life moves continually forward, making the raucous rendition of her band playing "My Generation" very ironic. Unfortunately, there is also the pissing contest...
Filmed over ten years, mostly in black and white, this documentary shows scenes from Patti Smiths life, family and friends and tours. She stands in vivid contrast to the pretty-girl -pop music business, and her intelligence, political awareness and way with words come out strongly, as does her loyalty to friends, and her responsibility as a parent. Very interesting, and definitely worth a watch.
Patti Smith: Dream of Life Quotes
There are no approved quotes yet for this movie.