Hounddog
(2008)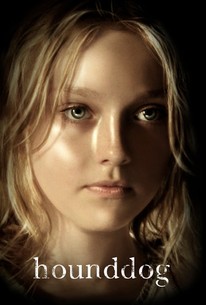 Movie Info
A precocious but troubled young girl living in 1950s-era Alabama seeks solace in the music of Elvis Presley in director Deborah Kampmeier's controversial tale of childhood trauma and musical healing. War of the Worlds star Dakota Fanning takes the lead for a period drama that made its debut at the 2007 Sundance Film Festival.
News & Interviews for Hounddog
Critic Reviews for Hounddog
Audience Reviews for Hounddog
Dakota Fanning's luminescent performance grounds this lonely, sordid trip to the rural 1950s South enough to overcome the numerous and cliched stereotypes in this dark tale of a poor country girl innocently obsessed with Elvis.
Kevin M. Williams
Super Reviewer
A young girl grows up in the South with her damaged father, dysfunctional grandmother, and a looming sexuality. I think this film gets a star knocked off as a penalty for its disappointment. I like Dakota Fanning in her dramatic roles more than her saccharine family comedies, and David Morse is always extraordinary. But there are so many flaws in this film that I almost can't get my head around all of them. First - the snakes. The opening credits, the connective tissue, and a supporting character are all obsessed with these menacing, phallic creatures slithering this way and that, and the image gets to be a tired, worn cliche by the end of the film if it wasn't already a cliche before the first frame. Second, David Morse's character begins the film as a force, a menace, an ever-present threat, and if you've seen or heard any press for this film, then you know why it's "controversial," and you're probably expecting Morse to be the source of the controversy, which would a scene of such brutality, such a mismatched mesh of horror - Fanning with her slight demeanor and Morse the towering giant. But midway through the first act, Daddy is struck by lightning. Yes, you read that right: he's struck by lightning. And the source of the film's dooming, gothic ambiance is turned into a simple, bowl-cutted idiot. Finally, Robin Wright Penn's character begins the film as a passing stranger, but I can almost hear the writers, midway through the third act, thinking, "Hmm: maybe we should take her character seriously." Yes, Fanning is wonderful, adapting to the damaged Lewellen like the fantastic actress she already is (I can't imagine what a force she might become), and Morse does his best with what he's been given, but overall, this is truly bad storytelling and even worse filmmaking.
Jim Hunter
Super Reviewer
½
Have been wanting to see this for ages, but doesn't seem to be getting released over here (anytime soon, anyhow), so ended up ordering the DVD from the US. I was surprised to see it was deleted already and had to buy it from a private seller. It is almost like this film is too shocking for some people and is being made to disappear. Well, obviously it is not a nice topic, a coming of age story about a young girl, played by Dakota Fanning, who's lives with her alcoholic father, who may or may not be abusive, and her extremely religious Grandmother who is just oblivious to a lot of things. Music is her outlet and when she hears Elvis is coming to town, her and a friend come up with a questionable plan to score tickets, which leads to a tragedy. Dakota, as always is fantastic. I have a whole new respect for her as an actress after watching this, although I have always liked her. She plays plucky Lewellen with such strength and truth that this almost ends up being an inspiring story. (Almost).
Nicki Marie
Super Reviewer
Hounddog Quotes
There are no approved quotes yet for this movie.