Space Chimps
(2008)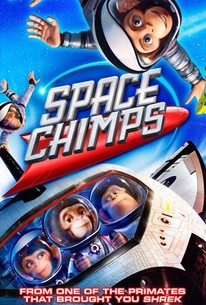 Movie Info
When a $5 billion Space Agency probe disappears into an intergalactic wormhole, the agency recruits Ham III, grandson of the first chimpanzee in space, to help retrieve the wayward craft. But Ham is a free-spirited circus performer more interested in zero gravity high jinks than living up to his illustrious heritage. The simian slacker becomes a reluctant hero and learns the true meaning of courage as he and his crewmates, the plucky Lieutenant Luna and their by-the-book commander, Titan, risk everything in an effort to save the peaceful inhabitants of a distant planet from an evil dictator.
News & Interviews for Space Chimps
Critic Reviews for Space Chimps
Audience Reviews for Space Chimps
This is very silly childish stuff and most of the aliens seen on the alien planet the chimps go to are really bad looking with terrible animation and horrible colour schemes, the jokes are cheesy and the characters are really cliched. Basically its the same kind of kids film over again but made worse cos the main characters are chimps and kinda spooky haha The best thing about the whole film is Patrick Warburtons voice :) he just has a brilliantly funny tone to his voice that is deep flat and sarcastic, always works.
Phil Hubbs
Super Reviewer
Space Chimps has a very interesting premise that might have made a good movie if it also had good animation and less monkey puns.
Directors Cat
Super Reviewer
Michael Edwards
Super Reviewer
Space Chimps Quotes
There are no approved quotes yet for this movie.