My Winnipeg
(2007)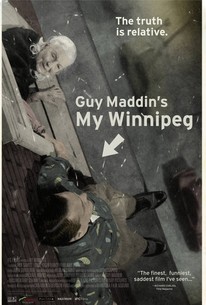 Movie Info
Visionary Canadian filmmaker Guy Maddin pays tribute to his beloved hometown with this goodbye letter and self-described "docu-fantasia" that is equal parts transcendental rumination, historical chronicle, and personal portrait. In the first segment, Maddin's camera drifts dreamlike through crowded trains as a floating kielbasa hangs from the ceiling and the director/narrator ponders just why the city boasts the most sleepwalkers per capita of any major international city. Later, the viewer is treated to images of numerous historical monuments in the city as they learn about such key historical events as the Winnipeg General Strike, the defeat of the Winnipeg Jets, and even the Golden Boy pageant scandal and a racetrack tragedy that found numerous horses sent to an icy death. As the third and final segment gets underway, the director draws inspiration from filmmaker William Castle to present pivotal -- and often traumatic -- events from his childhood that left an indelible mark while simultaneously serving to mold his unique vision of his beloved Winnipeg. ~ Jason Buchanan, Rovi
Critic Reviews for My Winnipeg
Audience Reviews for My Winnipeg
One of the most inventive, unique, surreal, contemplative movies I have ever seen.
Dillon Lupky
Super Reviewer
½
A visual poem about... well, Winnipeg. A fascinating projection of Guy Maddin's memories and personal mythologies about the city where he was born and raised, juxtaposed upon a fantastical recount of historical facts and urban legends with his trademark silent film aesthetic, grainy and ethereal. It's self-indulgent perhaps, but watching it is enrapturing like discovering a completely new world. A perfect example of how realities become extraordinary when observed through an extraordinary prism.
It sounds weird, but this is just the type of film I'd make if I were a filmmaker. It's like the dude voiced out my deepest, darkest, insomniacest sentiments and filmed it in a sort of hyper-nostalgic, Caligari surreal docudrama. It's a perfect homage to a weirdo town and you get the feeling the guy really, really loves living there. This is a GOOD movie.
Jennifer Xu
Super Reviewer
My Winnipeg Quotes
There are no approved quotes yet for this movie.