Phoebe in Wonderland
(2009)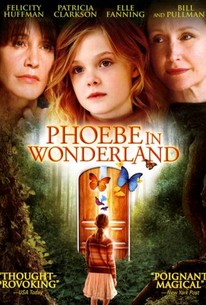 Phoebe in Wonderland Photos
Movie Info
Felicity Huffman, Elle Fanning, and Patricia Clarkson star in director/screenwriter Daniel Barnz's illuminating tale of parenting and growth concerning an exceptional young girl whose troubling retreat into fantasy draws the concern of both her dejected mother and her unusually perceptive drama teacher. Phoebe (Fanning) is a talented young student who longs to take part in the school production of Alice in Wonderland, but whose bizarre behavior sets her well apart from her carefree classmates. Her mother (Huffman) is an aspiring academic who is beginning to feel like she has not only failed in her professional career, but as a parent as well. Though Phoebe's gifted drama teacher (Clarkson) has no doubts about the young girl's talent and capacity for learning, the frustration of seeing such a promising student slowly slip ever further away from reality soon becomes a growing concern both at home and at school. ~ Jason Buchanan, Rovi
News & Interviews for Phoebe in Wonderland
Critic Reviews for Phoebe in Wonderland
Audience Reviews for Phoebe in Wonderland
The film's strength lies in its candid portrayal of a young girl afflicted and in Elle Fanning's Phoebe. Full review later.
Thomas Bowler
Super Reviewer
"Elle Fanning is every bit as talented as her older sister Dakota. She gives a great performance in Phoebe in Wonderland. Phoebe is a young girl suffering from OCD and Tourrettes syndrome. But it takes awhile for her to be diagnosed. I thought the parents to be in complete denial and putting blame on everyone but themselves, even though there is no one to be blamed. The performances is what really brings this film together. I loved Patricia Clarkson in the film as well as Elle Fanning. They both stood out for me and made the film."
♥˩ƳИИ ƜѲѲƉƧ♥
Super Reviewer
½
A troubled ten-year-old gets cast as Alice in the school play version of Alice in Wonderland and copes with the pressures of growing up different than her peers. Stellar performances by everyone in the cast carry this film. Elle Fanning has all the natural charm her sister has and is equally wise beyond her years. Felicity Huffman and Patricia Clarkson are also quite good, and Bill Pullman has moments of emotional expression that are rare for him. I liked that that film took its characters seriously and that this didn't attempt to be a contemporary re-telling of Alice in Wonderland. Rather, the film is about a child coping with what could be either eccentricity or mental illness, and for the characters in the film, the line between those two conditions is as fluid as it should be in real life. Aside from the principal, there isn't a villain (even the principal is more of a weak douche than a true villain), just people of different perspectives trying to resolve the Phoebe's problems. I didn't like the ending, and I thought that Phoebe's antics occasionally got petulant, making her character less identifiable. Overall, Phoebe in Wonderland is a strong, sensitive drama about growing up different with just the right touch of Lewis Carroll whimsy.
Jim Hunter
Super Reviewer
Phoebe in Wonderland Quotes
There are no approved quotes yet for this movie.