Elegy
(2008)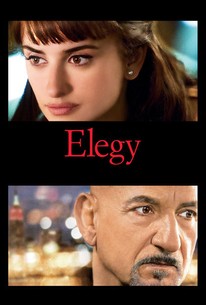 TOMATOMETER
AUDIENCE SCORE
Critic Consensus: An intelligent, adult, and provocative Philip Roth adaptation that features classy performances, Elegy is never quite the sum of its parts.
Movie Info
Adapted from author Philip Roth's novel The Dying Animal, director Isabel Coixet's elegant tale of obsession explores the relationship between a highly respected professor (Ben Kingsley) and an impossibly gorgeous grad student (Penélope Cruz). As their relationship deepens, the professor finds his ego challenged by the girl's enchanting beauty. Dennis Hopper and Patricia Clarkson co-star.
News & Interviews for Elegy
Audience Reviews for Elegy
½
I liked it despite it's relatively low rating. It portrays the raw and sharp edges of lust and love. Kingsley is charming and Penelope is as beautiful as ever!
I had initially rated Elegy much higher than this, but have changed that now with the review. I watched the film a couple weeks ago - and enjoyed it - but the thing is that absolutely nothing stuck around; there is absolutely nothing particularly remarkable about the film. Penelope Cruz is charming, feisty, and vivacious, but what else is new? The only other thing I remember at all, is that Ben Kingsley's character is terrible. I mean, he is convincing enough, but just completely dislikable. I'm not really that fond of Philip Roth's work in general. He's a bit of an old perv and that really shines through in his male characters - especially those professors who sleep with all their students, while cheating on their mistress. It's all overtly sexual, but not in a shocking way and not in an erotic way either. It's just kinky. The only problem with Miss. Cruz according to Mr. Kingsley is that she doesn't just love him for his stick. God forbid that she actually likes him as a person! And those are the three things to note about Elegy. So, I guess the film is watchable, but it is extremely flawed. Really there are more flaws than anything to pick apart to praise. There just isn't anything left.
This movie suxs, during first 30 min was going to give it 1 star, but as it continued and it kept hitting closer to home. Nothing short of 4 stars.
Bruce Bruce
Super Reviewer
Elegy Quotes
There are no approved quotes yet for this movie.