Noise
(2007)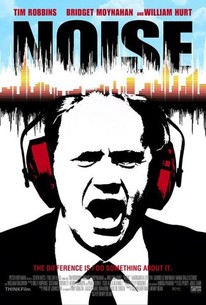 Movie Info
Tim Robbins, Bridget Moynahan, and William Hurt star in writer/director Henry Bean's topical urban comedy following one man's quest for a little peace and quiet in the big city. The noise was bothersome when David Owen (Robbins) first moved to New York City, but back in those early days it was almost endearing in an odd sort of way; a forgivable manifestation of urban vitality, or so he had led himself to believe. These days the incessant barking of car alarms, traffic, and frustrated commuters seems to be driving David insane, never allowing him the opportunity to concentrate or focus on the task at hand. While this distraction is at first only bothersome on a superficial level, however, the thing that really riles David is that he is completely powerless to remedy the problem. As the days go on and the noise on the street seems to amplify in David's ears, he makes the decision to take up arms against the unseen intruder. Initially, David is content to simply let the air out of tires or leave notes on windshields when the owners of cars fail to turn off their alarms. When this approach fails to yield acceptable results, David's subversive urban sabotage techniques quickly evolve into full-blown acts of vandalism. Eventually, David is caught in the act and arrested by the police. After spending a night in jail, David confesses to his wife that he is in fact the urban folk hero who has come to be known by the public as "The Rectifier" for his repeated attempts to hold those responsible for urban noise pollution accountable for their auditory transgressions. When his wife voices concern about such extreme and irrational behavior, David dutifully agrees to give up his career as a noise-fighting vigilante. But try as he might, David simply cannot repress his lingering urge to strike back against such a formidable enemy. ~ Jason Buchanan, Rovi
Audience Reviews for Noise
A little comedic gem that asks "what bothers you about society" and then " why aren't you fighting against it?" Not laugh out loud funny, but certainly an interesting afternoon.
Kevin M. Williams
Super Reviewer
½
Netflix identifies this as a comedy, but there wasn't a funny frame in the whole film. Even as a dramatic film, it's muddled, as though the director and writer didn't know what the film was about. At the end, neither do I. We're given no reason for Owen's eventual transformation or his obsession, and the motivations of the women around him are equally mysterious. In the end, this is the poorest imitation of Taxi Driver that could possibly be concocted. Although, despite the bad hair piece, William Hurt flawlessly transforms himself into the smarmy, impossible-to-like mayor. Yet another great performance by Hurt in a poor film.
Jim Hunter
Super Reviewer
½
CAST: Tim Robbins, Bridget Moynahan, Margarita Levieva, Gabrielle Brennan, William Baldwin, William Hurt, Maria Ballesteros DIRECTED BY: Henry Bean SUMMARY: A man who is being driven crazy by the noise in New York City decides to take vigilante action against it. MY THOUGHTS: "Strange, funny, & definitely different. Tim's character is a bit moronic. Not a great film, but not completely bad either. The acting is great, as it always is when it comes to Tim Robbins. I'm certain some can relate to why he's annoyed and upset, but most probably won't go to the extremes his character does."
♥˩ƳИИ ƜѲѲƉƧ♥
Super Reviewer
Noise Quotes
There are no approved quotes yet for this movie.