State of Play
(2009)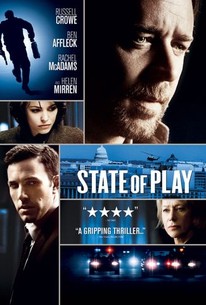 TOMATOMETER
AUDIENCE SCORE
Critic Consensus: A taut, well-acted political thriller, State of Play overcomes some unsubtle plot twists with an intelligent script and swift direction.
Movie Info
Handsome, unflappable U.S. Congressman Stephen Collins is the future of his political party--an honorable appointee who serves as the chairman of a committee overseeing defense spending. All eyes are upon the rising star to be his party's contender for the upcoming presidential race. Until his research assistant/mistress is brutally murdered and buried secrets come tumbling out. D.C. reporter Cal McCaffrey has the dubious fortune of both an old friendship with Collins and a ruthless editor, Cameron, who has assigned him to investigate the murder. As he and partner Della try to uncover the killer's identity, McCaffrey steps into a cover-up that threatens to shake the nation's power structures. And, in a town of spin-doctors and wealthy politicos, he will discover one truth: when billions are at stake, no one's integrity, love or life is ever safe.
News & Interviews for State of Play
Critic Reviews for State of Play
Audience Reviews for State of Play
½
[img]http://images.rottentomatoes.com/images/user/icons/icon14.gif[/img]
Directors Cat
Super Reviewer
½
"You're just seeking the truth. You're a truth seeker. You can't help it, that is just who you are." A team of investigative reporters work alongside a police detective to try to solve the murder of a congressman's mistress.
REVIEW
"State of Play," directed by Kevin Macdonald, is a smart, topical political thriller whose cast of characters includes a congressional aide who dies under mysterious circumstances; a scandal-plagued Capitol Hill legislator; a seasoned reporter for a mainstream newspaper; an unseasoned cub reporter for that same paper's on-line blog; and a Blackwater-type quasi-military organization that will seemingly stop at nothing, even murder, in its effort to privatize the War on Terror for power and profit. Ben Affleck is the congressman from Pennsylvania whose affair with the murdered woman threatens to bring to light some serious behind-the scenes skullduggery on the part of the company that is currently under investigation by Affleck's committee for alleged acts of brutality and terror in Afghanistan and Iraq. Russell Crowe is the journalist for the fictional "Washington Globe" who's investigating the case even though his lifelong friendship with both the congressman and the congressman's beautiful but long-suffering wife (Robin Penn Wright) may represent a major conflict-of-interest for the paper. Rachel McAdams is the wet-behind-the-ears blog reporter who joins Crowe in his investigation, and Helen Mirren is the no-nonsense editor-in-chief responsible for making sure that the two mutually antagonistic reporters work in tandem, rather than at cross purposes, in their effort to get the story. The script (based on a six-part British series) is complex but relatively easy to follow as it deftly twists and turns its way to its irony-drenched conclusion. As a sidebar, the movie examines how compromise has become the order of the day in journalism, now that an ever-dwindling number of "legitimate" newspapers are being forced to compete with sensationalistic tabloids and blogs for readership and revenue. A film for thinking adults.
Lorenzo von Matterhorn
Super Reviewer
State of Play is a good political thriller with twists coming at you when you least expect them. Russell Crowe, Rachel McAdams, Ben Affleck, Helen Mirren and Robin Wright Penn were absolutely fantastic in this film. They carry the film through some implausible plot twists which left me somewhat confused, but somehow, the film always made sure the audience was following along. They'd stop and say "OK what've we got so far?". Some times the story just felt rushed, like they were making an effort to keep the audience in the loop, but wanting to keep the pace up and complicate the story a bit more.... The script is very intelligent and well-written, and the direction by Kevin MacDonald was good as well. Overall, State of Play left me in a mild state of confusion, but in the end, it all made sense, and kept me involved (even a little breathless at times).
Raymond Wieser
Super Reviewer
State of Play Quotes
There are no approved quotes yet for this movie.